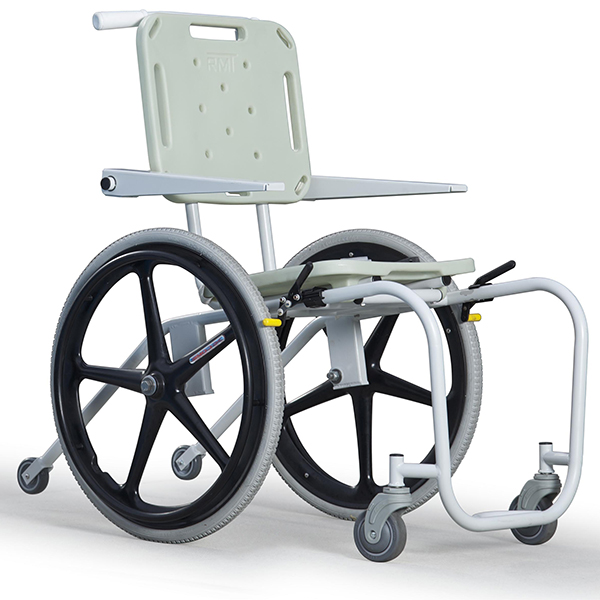 This Unique Pool Wheelchair is built to ensure your mobility in aquatic environments is made super easy. It is created with amazing features that not only facilitate movement in aquatic environments but also makes transfers comfortable, safe and easy. The MAC Mobile Aquatic Pool Wheelchair is best used at facilities that utilize a ramp, have a zero-depth entry or has a movable floor. Sportaid offers you this incredible chair that is a must-have for anyone who loves a splash at the pool. I will let you in on the features of this fantastic chair next.
Features of MAC Aquatic Pool Wheelchair
The rear wheels are built to provide utmost stability to the chair in the water. You do not need to worry about toppling over in the water, your stability is guaranteed.
This chair has an elegant eye-catching stainless steel frame. The frame's durability is enhanced by the powder coating that inhibits corrosion and rusting even with regular use in water.
Your security during transfers both on and off the chair is assured; this is made possible by the flip-up armrests that ensure zero chances of accidents during transfers.
The uni-body frame further ensures that your chair lasts long. The frame is sturdy and gives the wheelchair long life.
With a seat width of 18″ and 300 lbs weight capacity, the chair is an ideal choice for individuals of a fairly large size and weight comfortably.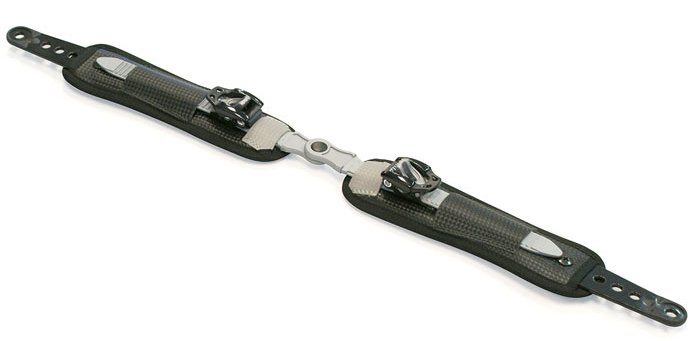 The security of any wheelchair user comes first, that is why the security of every rider needs to be checked. The use of straps is one of the most effective ways of ensuring you are safe in your wheelchair to take every twist, turn and even bump. And if you are a sports person you will agree with me when I say strapping is a must not only for your safety but for your ultimate comfort, Sportaid is the place to get the wheelchair sports click strap that has amazing features which I will share with you in this post.
Features of Wheelchair Sports Click Straps
The straps are easy to use, they come with a ratchet on each pad that is adjustable, hence can be adjusted to your comfort.
Your comfort is guaranteed with the ¼ "high-density EVA foam pad. And the good news is that it comes in twos.
These straps are created for security, and to enhance it 4 strong double zip ties are provided to tie it onto your wheelchair. This enables you to sit firm and comfortably in your chair.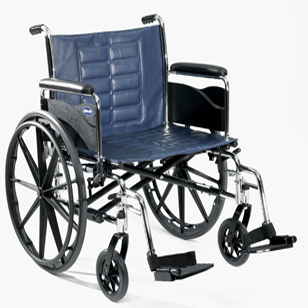 Superior durability, roll ability and streamlined looks are what the Invacare Tracer IV Custom heavy-duty wheelchair is all about. There are two weight capacity options, 350 lbs. and 450 lbs. and eight different seat size configurations. The Tracer IV is designed for individuals who need the strength of a reinforced heavy-duty frame.
Features:
350 lb. and 450 lb. weight capacity options.
Dual axle positioning for variation of seat to floor height.
Durable, low-maintenance, carbon-steel frame.
Dual cross braces are standard on the reinforced frame.
Heavy-duty inner liners keep seat and back from stretching.
24″ composite urethane corded tires standard on 350 lb. frame.
24″ HD composite pneumatic with flat-free inserts standard on the 450 lb. frame.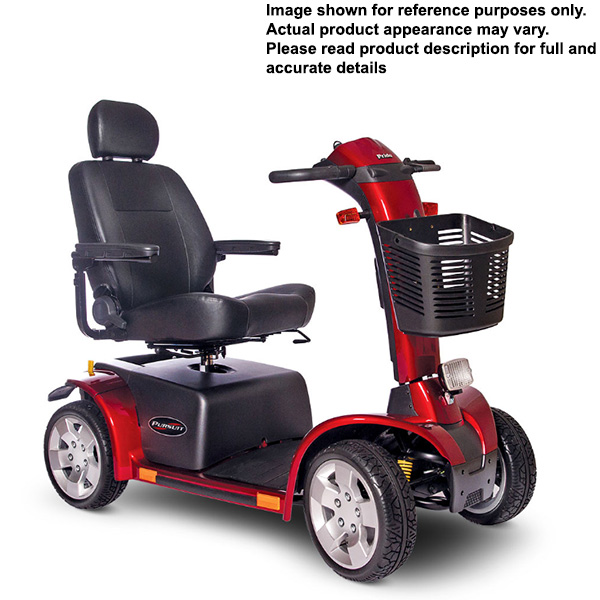 The big, heavy-duty Pursuit PMV from Pride is a great off-roader, with 13″ wheels to handle rugged terrain. It has a 7.25 MPH top speed, standard full lighting package with directional signals and non-marking low profile tires. The Delta tiller is an excellent feature for those with limited hand dexterity; operate the scooter with a single finger or thumb, while resting your arms on the tiller sides.
What Makes Pursuit PMV Different:
The Pursuit PMV offers independent front and rear dynamic suspension for smooth rides over bumpy terrain. The suspension and standard 13″ solid tires are great for outdoor use on uneven terrain. The seat can also easily recline for added comfort. Continue reading →
This motorized scooter is constructed to take a weight of 500 lbs. It offers a performance that is outstanding and its elegant style adds the icing on the fabulous features that include upgraded electronics and an ultra-heavy duty drive train for added power; you know very well that power without control is nothing, the Maxima ensure control by offering a seat with the highest level of comfort. The seat comes with a lap belt for your comfort. The features that make the Maxima 3 unique include the following.
Features of the Maxima 3 Wheel
It has a front heavy duty front basket.
The maxima has an easy to adjust tiller and an enhanced rear suspension.
A front headlight to light your way in the dark.
It also offers a one-piece, stable frame construction.
Your safety is guaranteed with the anti-tip wheels.
The Maxima's whisper quiet train gives it a stylish look.
The black tires are non-marking and it also has silver hub-cabs.
It also has a power seat option for an additional 5″ of seat height to enable you to reach higher cabinets and shelves.
It has a turning radius of 52″ and a cool speed of 5.25MPH.
A comfortable seat with a 60″ lap belt included.
Do you need a longer range for your daily activities? The Go-Go is rated to travel up to 6 miles on charge and with the optional 18AH battery pack you are guaranteed to travel up to 9.7 miles with each charge. Besides, it is easy to disassemble, has a great stability of all the four wheels on the ground. It also has a lightweight frame and is generally light enough to easily load it into a car. And that's not all: the Go-Go has lots of other incredible features, keep reading and you will find out what they are.
What makes this Different:
Choose the travel range that's best for you! The Elite Traveller is rated to travel up to 6 miles on a charge. Need a longer range for your daily activities? The optional 18AH battery pack gives users the ability to travel up to 9.7 miles with each charge. Continue reading →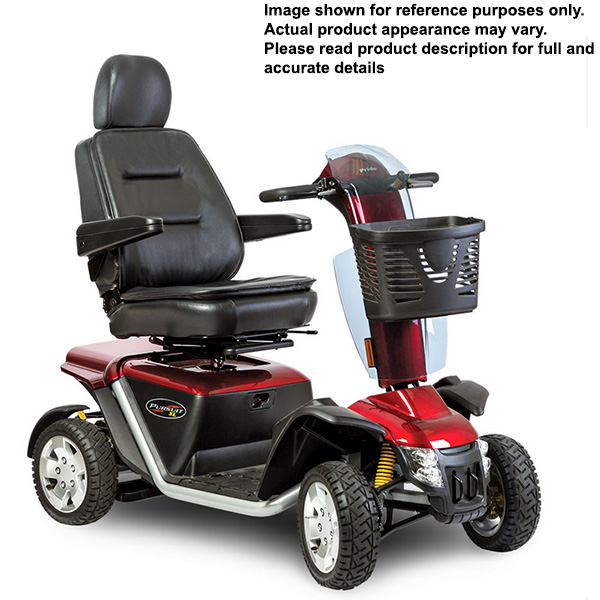 The Pursuit XL PMV combines ruggedness and comfort and that's not all, it also offers amazing safety features. It is a heavy duty scooter taking a weight capacity of 400 lb. The availability of a Delta tiller with wraparound handles ensures that the handles are easy on your hands. But that's just the tip of the iceberg, the pursuit XL has lots of other features that you need to explore I will share them with you here.
Features of the Pursuit XL PMV
It comes with a full LED lighting package complete with turn signals and a headlight for your safety.
Pneumatic tires at 13" are large enough and coupled with both rear and front suspensions; it creates a smooth ride, offers easier handling and enhances outdoor performance.
The deluxe reclining seat that has a pillow top ensures that you enjoy a comfortable ride.
It also has a headrest and sliders that make it easy for you to access the adjustable tiller.
The front basket will take care of your stuff. You do not need to worry about sharing your seat with your stuff.
It has a forward and reverse control; you are in control in this scooter.
The Go Go Elite Traveller 3- wheel scooter offers easy disassembly, a lightweight frame and a super tight 33 inch turning radius! Versatile and easy to handle, the heaviest piece weighs only 28 lbs for loading in the car. The Elite Traveller 3- wheel has straight handlebars, not the delta style tiller, and features an additional charging port located up on the tiller for easy access. The Elite Traveller features anti-tips on the back for extra security and has a maximum weight capacity of 300 lb.
What Makes This Different:
The convenience of an upgraded battery separates the Pride Go-Go-Elite Traveller from others in its class. Keep the smaller battery for short trips or expand to the 18AH when day trips and shopping expeditions are planned. Continue reading →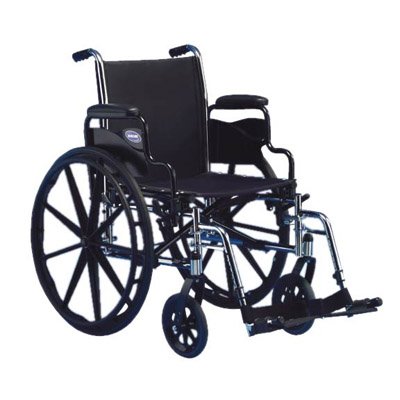 This wheelchair features a carbon steel frame. It also has a heavy duty liner to enhance your posture and comfort by keeping the back from stretching. Urethane rear tires are mounted on 'no flex' wheels this is a durable wheelchair. In addition, it has a dual-axle that allows for conversion to hemi-height.
Features of the Invacare Tracer SX5
Comes with nylon upholstery for easy cleaning and added comfort.
Urethane rear tires mounted on no flex wheels for superior performance.
Heavy-duty inner liners that keep seat and back from stretching.
Has an attractive vein finish.
14-gauge cross braces for added strength and durability.
Has wheel lock for your safety.
Padded arm pads in desk length and full-length options.
Comes with composite hand rims.
20" and 22" seat widths have a 300 lb. weight capacity.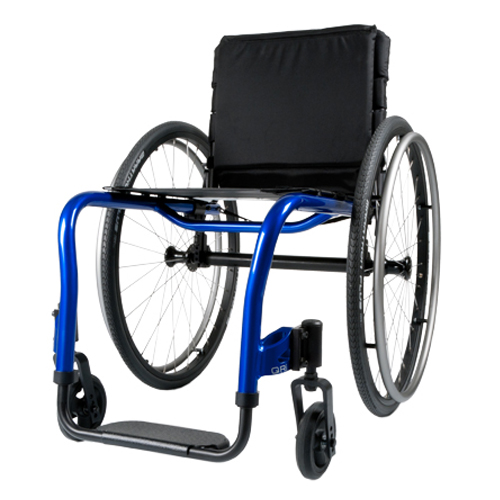 This wheelchair offers a unique combination of an open sturdy frame, a stable wheelbase and a fluid caster design but that is not all an optional WC-19 approved transit up to 265 lbs is also another feature of the quickie QRi. Whether you are commuting across town or traveling by vehicle, the QRi helps you arrive safely and looking your best.
It goes without saying that the QRi was designed for form and function. The strong aluminum frame provides excellent frame rigidity and durability for your on-the-go lifestyle. It also features only the best and most popular options and accessories, making it easier to customize and order.
Features of  Quickie QRi
Infinite center-of-gravity adjustments from 1″ to 3″.
Stylish yet durable open frame design for those with active lifestyles.
It is available with many of Quickie's most popular options and accessories. Overall standard weight of 19.6 lbs.
Mono-frame design for easier propulsion, transportability and reduced risk of Repetitive Strain Injury.
Lite Spoke wheels are a standard option.
Performance Frame option has a shorter footprint for improved turning response and maneuverability.
Quick release axles for easy wheel removal.
Ultra lightweight and durable aluminum.