The pushrim is an integral part of the racing wheelchair. You can't get anywhere without a solid pushrim and a good pair of gloves! Though the pushrim surface is sturdy rubber, it eventually wears out just as tires do. They usually need to be replaced every one or two seasons, depending on the amount of mileage you put on them and the wear and tear they receive. One way to tell that the rubber on your pushrims is wearing out is that the rubber will start to come off in small chunks. This can prevent good contact between your gloves and rims and cause slippage. Sometimes the rubber can become so worn that you will start to see the threaded surface beneath. The more worn out the surface, the harder it will be to get an efficient push stroke, increasing your effort and decreasing your speed.
There are two main types of pushrim surface: rubber and laced. The rubber is either specialized tubing or tire tread, both of which are glued to aluminum rims. Laced pushrims have rubber laces wrapped around them for additional gripping power. Purchasing replacement tubing can be expensive, and using tire tread is an easy way to recycle your used tires. I prefer to use old front tires because they have less wear than rear tires and so will last longer on your pushrims. Continue reading →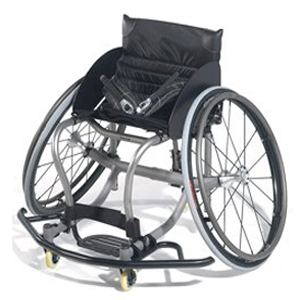 Are you looking for a basketball wheelchair that will change your court experience? The Quickie All Court Titanium Basketball Wheelchair is the perfect choice of a wheelchair designed with the sportsman in mind. Its cool design was created from the Quickie Ti with improvements in weight and a frame that enhances absolute durability.
Features of Quickie All Court Titanium Basketball Wheelchair
Center of Gravity Adjustment
The patented center of mass adjustments provides a center of gravity adjustment that requires no change in fork size, caster size, or fork hole location. This gives you the freedom to optimize your wheelchair's efficiency and maneuverability without going through the hassle of adding extra parts.
Titanium Frame
It makes sense to have the Quickie All Court come as light as possible owing to the fact that its main task is to hit the court. The low weight gives you a wheelchair that you can count on for tough competitive performances and also titanium gives your wheelchair a longer life since it is scratch and corrosion resistant. Continue reading →
How do you make a choice of the best wheelchair in a sea of wheelchairs? This can be an uphill task if you ask me; Sportaid, however, has the right wheelchair for your every need. The Top End Schulte 7000 Series BB is among the many high-quality wheelchairs and wheelchair accessories that are available at Sportaid. The Top End is an incredible wheelchair with amazing features, keep reading to find out why the Top End Schulte is a perfect wheelchair choice.
Features of the Top End Schulte 7000 Series BB
Anti-tip 5th Wheel for Stability
The Top End Schulte is a sport wheelchair; it is therefore expected to give ultimate performance. Stability is a must for such a wheelchair that is the reason why it is built with an anti-tip 5th wheel for enhanced stability.
Absolute Rigidity and Strength
Also, the strength of the Schulte 7000 has not been left unattended to. The Invacare Top End's sophisticated heat treating and powder coating process has been used to craft a wheelchair that is strong enough to take a beating and still stand out strong. Continue reading →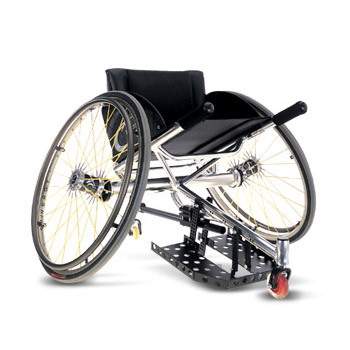 The Colours Xtreme is that amazing wheelchair that unifies your body with the wheelchair giving you every support you need to give the best performance on the court. To excel in any sport you need a wheelchair that is highly responsive the features of Colours Xtreme Pro-Tennis give it a winning edge in the sporting arena. If you are a sportsman you will agree with me that you will need to rely on the rigid body, less flex and agile movements to up your game the colours Xtreme-Pro Tennis gives you all that.
Features of the Colours Xtreme-Pro Tennis
Front and rear seat height adjustment, adjustability in your center of gravity or being able to fine-tune your wheelchair, this is a three-wheeler that will perfectly fit your bill.
To complete the concept of being in unison with your wheelchair, the Xtreme through its rear tube offers you full adjustability.
The vertical and horizontal adjustability of the foot plate allows you to set your foot in the most comfortable position and with your feet properly set you can take on any competition with all your energy.
A fully rotational wheelie bar is an accessory that will give your wheelchair a fourth wheel to boost performance; the Xtreme is the first wheelchair to have it installed on it.
The Colours Zephyr was created with meticulous customers in mind, they do not need anyone to tell them how to sit and function in their wheelchair since they know exactly what they want. The Colours Zephyr is one of the lightest wheelchairs in the market today it's ultra-lightweight makes it unique and a perfect choice for any sports fan. Sportaid offers you this wonderful sport wheelchair that has amazing features which I will share next.
Features of Colours Zephyr Basketball Wheelchair
The wheelchair is light with a frame weighing only 14.5lbs; hence it is portable and doesn't have excess baggage that will hold you back when moving.
Also, the Colours Zephyr is a strong wheelchair; the chair is made with the heat treatment unique technique which gives the wheelchair the strong sturdy feature.
Besides, being strong and light the Colours Zephyr wheelchair comes with a dozen custom options, you are the creator of this wheelchair since you get to design and build it.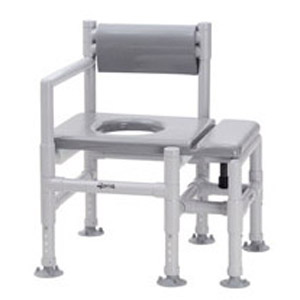 A lot of people living with disability have a tough in the bathroom. However, when you have the quantum Bath Chair with Commode you have every reason to confidently get into the bathroom and take your bath in total comfort. And the good news is that you can take this chair with you wherever you may go. Sportaid offers you this and other amazing products; I will let you know the features of this bath chair in a moment.
Features of the Quantum Bath Chair with Commode Seat
The Quantum Bath Chair has been built for durability. The commode hole style seat is internally rounded and covered in foam to ensure your comfort.
You can either access the bath chairs using the right or left entry, the chair has a reversible left or right side entry.
The assembly of this chair is simple; you do not need tools to put it together.
It has a weight capacity of 350 lbs, an ideal choice for everyone.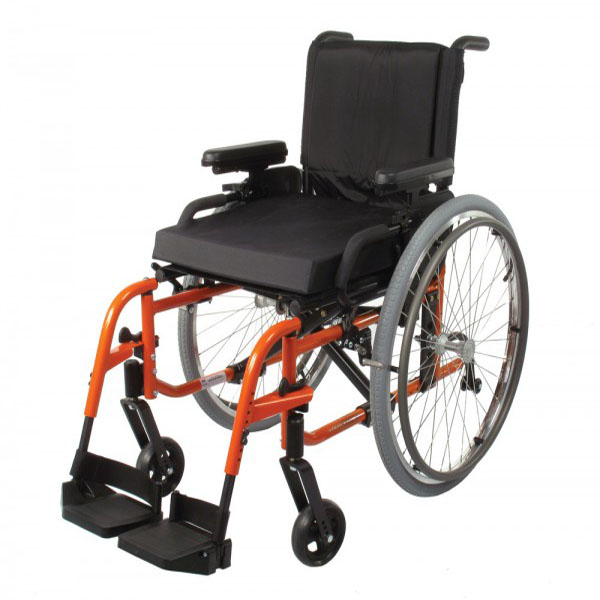 The Quickie LX weighs just 28 pounds which is the same as many ultra-light weight wheelchairs, but costs several hundred dollars less than those same chairs. The adjustability of the backrest and seat heights as well as an incredible number of parameters to meet your various personal needs makes the LX an ultra-light weight chair at a lightweight friendly cost.
The Quickie LX comes with a non-adjustable axle plate. If you are looking for an adjustable axle plate that will provide adjustments, center of gravity options, and allows you the user to change camber degree on the rear wheels.
Features of the Quickie LX Custom:
Complete range of footplate, armrest and caster options.
60, 70, 70 "V", or 90 degree hangers.
Full selection of rear wheel options.
Black anodized chair parts.
Adjustable-height backrest.
Multiple color options.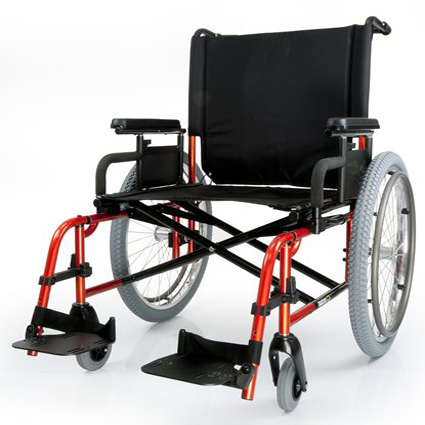 The Sunrise Medical Quickie M6 wheelchair is a bariatric wheelchair with a weight capacity of 650 lbs. It is made of high strength steel and weighs approximately 53 lbs. The M6 is a folding chair that features the "lockout" cross-brace that locks to limit flex in the frame for more efficient propelling. It also has a stabilizer bar that minimizes flex and a modular frame with interchangeable frame components for easy changes to the chair's width and depth. The Quickie M6 has many standard options, and the ability to configure the chair to meet a wide variety of needs.
Features of the Quickie M6 Folding Wheelchair:
Variety of standard features that are normally upgrades on other chairs.
Quick release axles for easy transport.
Adjustable back height.
Made of high-strength steel.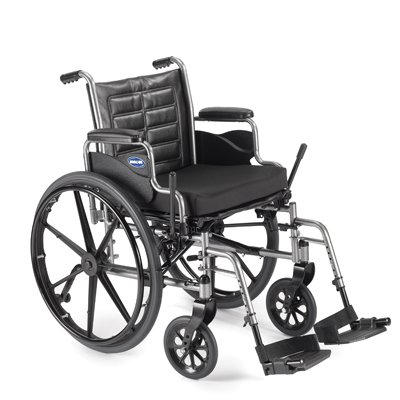 The Tracer EX2 Series offers features and options not available on other standard wheelchairs. The Tracer EX2 is a rugged, steel framed chair with strong vinyl upholstery that will last a lifetime.
The Invacare IVC Series Tracer EX2 wheelchair sets the standard in manual wheelchairs by combining the design and technology of the Invacare 9000 series and incorporating it into the Invacare Tracer Series. The Tracer EX2 design and the Invacare 9000 parts are interchangeable.
The dual axle position allows seat to floor heights of 17.5″ or 19.5″ by repositioning the rear wheels and 8″ casters. A lower seat to floor height is achieved by utilizing smaller front casters and rear wheels.
The Tracer EX2 is available in seat widths of 16, 18 or 20″.
Optional accessories include: brake extensions, anti tips, cup holder, oxygen tank holder. Continue reading →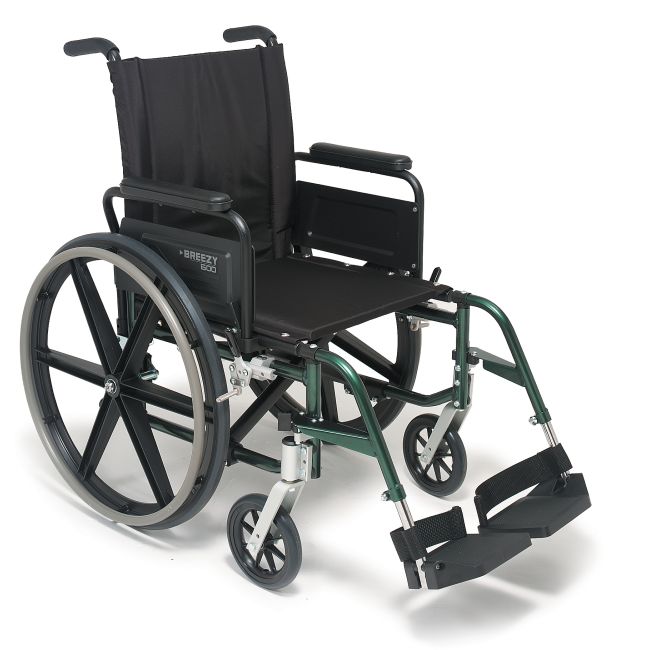 The Sunrise Medical Breezy 600 wheelchair is a great choice for those seeking a light, easily portable wheelchair. The chair features a lock crossbrace and an overall design that is focused on being as easy to move as possible. The ability to customize the wheelchair to your preference, make it one of the best wheelchairs on the market.
Features:
Flip-back fixed-height armrests and swing-away footrests.
Great color options: forest green, black, blue and silver texture.
70º footrests available for tighter turning radius.
Padded seat sling for extra comfort.
Scratch-resistant composite handrims standard.
Weight of 28 lbs. does not include footrests.