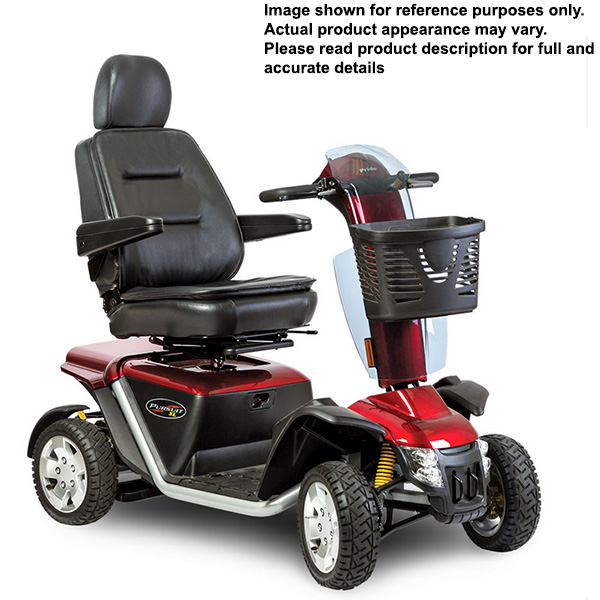 The Pursuit XL PMV combines ruggedness and comfort and that's not all, it also offers amazing safety features. It is a heavy duty scooter taking a weight capacity of 400 lb. The availability of a Delta tiller with wraparound handles ensures that the handles are easy on your hands. But that's just the tip of the iceberg, the pursuit XL has lots of other features that you need to explore I will share them with you here.
Features of the Pursuit XL PMV
It comes with a full LED lighting package complete with turn signals and a headlight for your safety.
Pneumatic tires at 13" are large enough and coupled with both rear and front suspensions; it creates a smooth ride, offers easier handling and enhances outdoor performance.
The deluxe reclining seat that has a pillow top ensures that you enjoy a comfortable ride.
It also has a headrest and sliders that make it easy for you to access the adjustable tiller.
The front basket will take care of your stuff. You do not need to worry about sharing your seat with your stuff.
It has a forward and reverse control; you are in control in this scooter.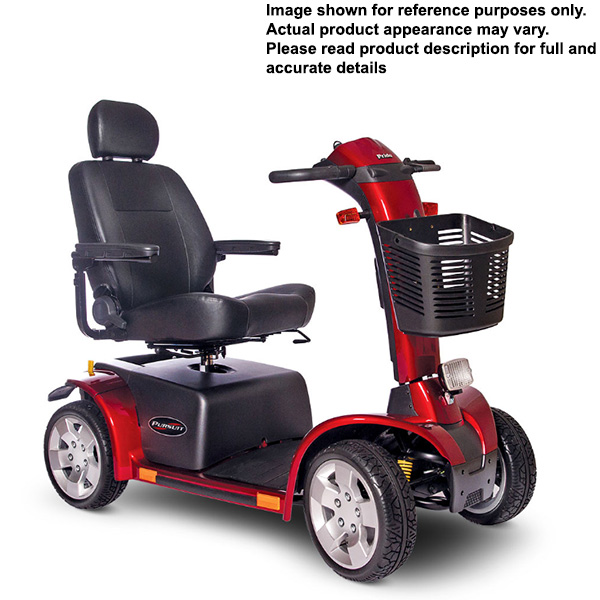 A scooter that has splendid outdoor performance and oozes with luxury is the description of the Pride Pursuit 4 Wheel PMV. It is a powerful scooter that will handle the rugged outdoor terrain and while at it remain stylish. Your outdoor experience will be elevated to another level with the Pride Pursuit which is a great off-roader.
Large Solid Tires
Tires make or break any machine that moves. The Pursuit PMV 4 Wheel has 13" low solid tires makes both outdoor rides and rides on even terrain easy. The outstanding outdoor performance relies on the specially designed tires adapted for rugged rides and that is not all, the tires are the non-marking low profile.
Standard Full Lighting
Lighting is a vital feature of a wheelchair. It helps increase visibility at night and ensures your safety. Apart from the obvious lighting your ways as you ride in dark areas and at night, it will ensure you are visible to other road users. Lights also give your wheelchair a bright unique look. The Pride Pursuit has the standard full lights complete with directional signals. Continue reading →