Overview of the Tracer IV Custom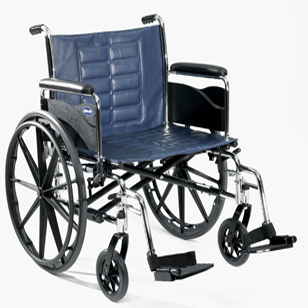 Superior durability, roll ability and streamlined looks are what the Invacare Tracer IV Custom heavy-duty wheelchair is all about. There are two weight capacity options, 350 lbs. and 450 lbs. and eight different seat size configurations. The Tracer IV is designed for individuals who need the strength of a reinforced heavy-duty frame.
Features:
350 lb. and 450 lb. weight capacity options.
Dual axle positioning for variation of seat to floor height.
Durable, low-maintenance, carbon-steel frame.
Dual cross braces are standard on the reinforced frame.
Heavy-duty inner liners keep seat and back from stretching.
24″ composite urethane corded tires standard on 350 lb. frame.
24″ HD composite pneumatic with flat-free inserts standard on the 450 lb. frame.
Pros and Cons:
Pros:
It is well-built and easy to move. Wheels with tread improve ease of moving even on thick carpet.
It is comfortable to sit in, Great support. Folds nicely and is easy to put in the trunk of the car.
Wheelchair is very stable; easy to get into and out of. This is a great purchase!
Arms are a little too short for comfort.
Sturdy, extremely comfortable, perfect height, great turning radius, keeps me mobile.
It rolls easily even with a heavier load, and seems pretty sturdy.
Chair is light, but will handle your weight well. The shape of the arms will allow to you transfer without taking the arms off the chair.
Optional back bag is nice. Holds water and odds and ends so you don't need to carry another bag with you.
Handles are long enough to hold your walker and gym bag when you go to therapy or any other place.
Sturdy build good looks.
Nylon seat and back easy to fold for transport.
Wheels roll smoothly and seat is comfortable.
It is easy to manoeuvre.
It has a solid construction, neat appearance, and ease of use.
Anti-tippers, strong frame, great seating system, nice color.
The seat is comfortable and the back rest is much appreciated.
Ruggedness, accurate machining, easy to use its heavy duty parts and overall good looks.
Cons:
The brakes are stiff and backwards, hard to lock & unlock. The wheels are very hard to move however, they will loosen up with practice or they can be adjusted.
17 inch seat height is much too low, even for someone as short as 4 foot 10 inches. This is adjustable.
The breaks are hard to use. It seems a little harder to push myself, but you will get used to it with time and it won't be a big problem.
Need longer brake handles
Wheel guard sides are plastic. Would be better if they were metal.
Not a weakness in the product itself but it should be mentioned that you will need 36 inch doorways if you buy the 24 inch seat.
Visit Sportaid to order this wheelchair. Sportaid offers 47% discount on Tracer IV custom Wheelchair.