Invacare IVC Tracer SX5 Wheelchair: Review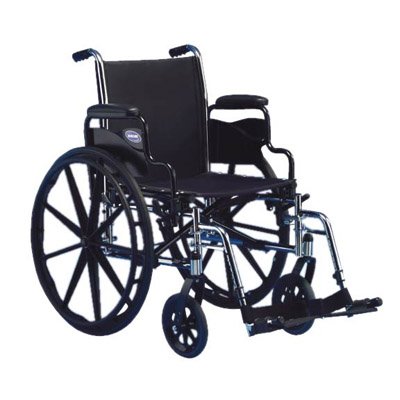 This wheelchair features a carbon steel frame. It also has a heavy duty liner to enhance your posture and comfort by keeping the back from stretching. Urethane rear tires are mounted on 'no flex' wheels this is a durable wheelchair. In addition, it has a dual-axle that allows for conversion to hemi-height.
Features of the Invacare Tracer SX5
Comes with nylon upholstery for easy cleaning and added comfort.
Urethane rear tires mounted on no flex wheels for superior performance.
Heavy-duty inner liners that keep seat and back from stretching.
Has an attractive vein finish.
14-gauge cross braces for added strength and durability.
Has wheel lock for your safety.
Padded arm pads in desk length and full-length options.
Comes with composite hand rims.
20" and 22" seat widths have a 300 lb. weight capacity.
The Pros and Cons of the Invacare Tracer SX5
Pros
Lightweight and ease of rolling, well built.
High armrests are great for comfort.
Easy to fold, fits perfectly well in tight spaces for easy storage and transport.
Simple to adjust its maneuverability is great.
The chair is well made its solid, durable and very easy to push.
Large enough to accommodate the average user.
Made of good quality material and has an eye-catching design.
Desk arm design allows the user to reach close enough to tables.
Cons
Could be a little sturdier with higher quality seating.
A little too wide for a small house.
Seat width and depth look out of proportion.
Does not have tread on tires.
Brakes may be hard to reach, but buying extensions makes it not a big problem.
Closing it up may be a bit of a challenge. Needs practice and with time it will work out easily.
Weight is heavier than some, but it's worth the quality.
This wheelchair that provides you with the freedom of movement that you deserve can be ordered at Sportaid you will be pleased by the speed of delivery and the unbeatable price of the wheelchair, thanks to the numerous discounts and offers at Sportaid.  The customer service is incredible, consult them for prompt feedback.