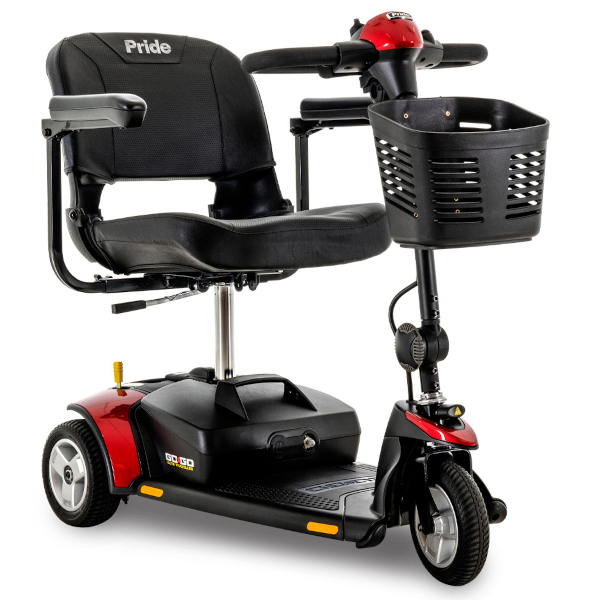 The Go Go Elite Traveller 3- wheel scooter offers easy disassembly, a lightweight frame and a super tight 33 inch turning radius! Versatile and easy to handle, the heaviest piece weighs only 28 lbs for loading in the car. The Elite Traveller 3- wheel has straight handlebars, not the delta style tiller, and features an additional charging port located up on the tiller for easy access. The Elite Traveller features anti-tips on the back for extra security and has a maximum weight capacity of 300 lb.
What Makes This Different:
The convenience of an upgraded battery separates the Pride Go-Go-Elite Traveller from others in its class. Keep the smaller battery for short trips or expand to the 18AH when day trips and shopping expeditions are planned. Continue reading →
This is an ultra heavy-duty scooter designed for comfort and performance. It has a weight capacity of 500 lb and a maximum speed of 5.25 mph. It is made with the bariatric market in mind. This scooter with its list of standard features that include an easily adjustable tiller, 22″ wide medium back seat, NF 22 battery capacity and ultra heavy-duty drive train is worth it. And so let's cover the features:
Comfortable Reclining Back Seat
Once you are comfortably seated in the reclining high seat, it goes without saying that your safety is ensured. You will also save your back and spine problems arising from lack of good posture that may have detrimental end results.
Standard conveniences and Safety Features
This scooter has a full light package ideal for your safety when you ride in not so well lit places or even when you ride at night. The lights ensure that you can be spotted from a distance by other road users besides ensuring that you light your way. Besides, it comes with a front basket for you to easily carry your stuff. Continue reading →