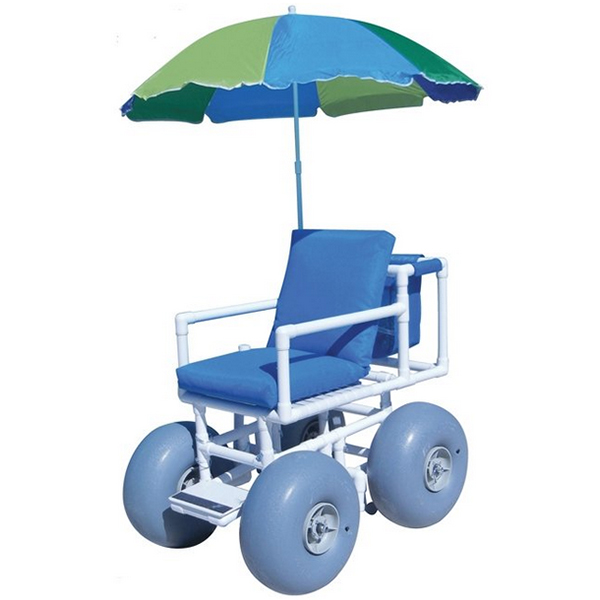 It is always summer somewhere and so when it comes around you do not need to stay indoors and miss out just because your wheelchair won't let you access the beach with the entire fun, fill your heart with joy and all the summer magic at the beach with the Aqua Creek Beach Access Chair that will ride through snow, sand and soft soil with ease.  Let us focus on the details of the features of this fabulous chair next.
Features of Aqua Creek Beach Access Chair
The chair comes with a seat belt for your safety. You do not need to be afraid of tipping over as you plough through the sand at the beach or the snowballs on the road.
Leaving your house for the sunny outdoors is important, you will get the required dose of vitamin D, but that is not to say that you should expose your skin to the sunburn or even get all soaked up in case there is a sudden downpour. The Aqua Creek comes with an umbrella so come rain or sun you are good to go.
Besides, the chair has a storage bag that will make it super easy for you to carry whatever you may need while outdoors. Carry your personal stuff in comfort and convenience.
A comfortable cushion seat graces the seat of this fantastic wheelchair. The comfortable cushion ensures that the fun is not cut short by the discomfort of your seat.
Single motion park brakes are fitted on the wheelchair to ensure your safety. The chances of crashing as a result of brake failure are zero.
The chair has a weight capacity of 300lbs, the seat height is 25″ and 34.5″ wide so it can easily access any doorway.