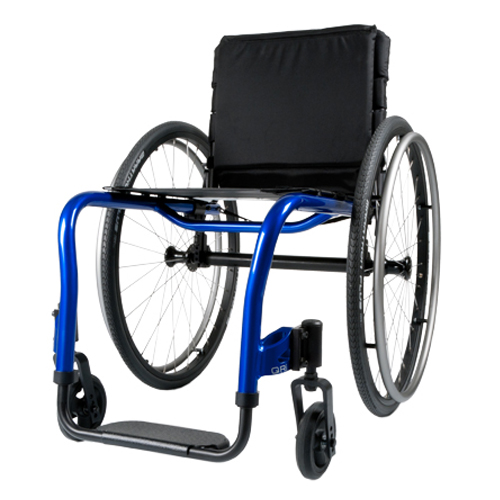 This wheelchair offers a unique combination of an open sturdy frame, a stable wheelbase and a fluid caster design but that is not all an optional WC-19 approved transit up to 265 lbs is also another feature of the quickie QRi. Whether you are commuting across town or traveling by vehicle, the QRi helps you arrive safely and looking your best.
It goes without saying that the QRi was designed for form and function. The strong aluminum frame provides excellent frame rigidity and durability for your on-the-go lifestyle. It also features only the best and most popular options and accessories, making it easier to customize and order.
Features of  Quickie QRi
Infinite center-of-gravity adjustments from 1″ to 3″.
Stylish yet durable open frame design for those with active lifestyles.
It is available with many of Quickie's most popular options and accessories. Overall standard weight of 19.6 lbs.
Mono-frame design for easier propulsion, transportability and reduced risk of Repetitive Strain Injury.
Lite Spoke wheels are a standard option.
Performance Frame option has a shorter footprint for improved turning response and maneuverability.
Quick release axles for easy wheel removal.
Ultra lightweight and durable aluminum.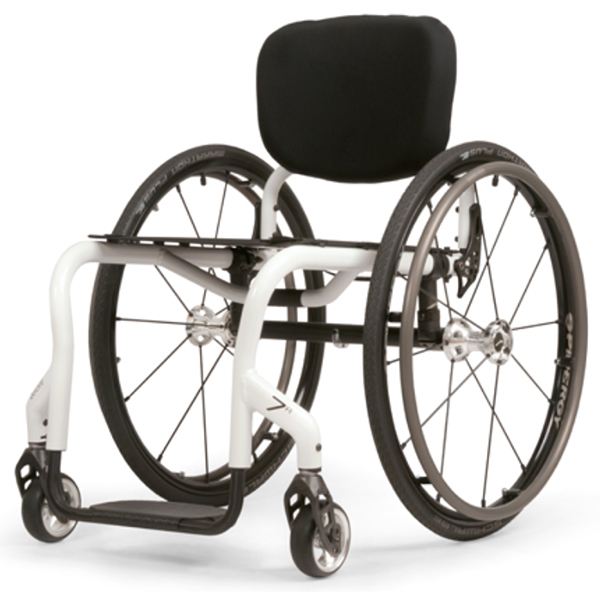 The Quickie 7 series is the true definition of an ultra lightweight rigid wheelchair. It is a strong wheelchair built for you if you are active and always ready for any type of challenge. The freestyle open back and premium materials that have been used to build the chair offer you total freedom of movement. It is the latest addition to the Quickie series, did you notice how incredibly precious that is?
The Quickie 7 series wheelchair is highly customized with 3 caster settings, 2 frame lengths, 7 rear wheels options, and 9 rear tire options. The frame is made of 7000 series aerospace aluminum treated with the ShapeLoc technology. It increases strength while considerably reducing the weight of the chair, the result is a strong ultra-lightweight chair.
The Freestyle Backrest Systems unmistakable style makes the 7 Series chair a true original. It also breaks barriers to independence by providing a 360° range of upper body motion and lowering the overall weight of the chair. Continue reading →
As the name suggests this is a rigid wheelchair built for comfort and performance. A combination of adjustability and its dual tube frame presents a wheelchair that you will find perfect for your mobility needs.
The chair's frame is curved out of titanium; titanium is one of the  strongest metals that exist on the face of the earth, breaking or bending of this frame is therefore completely out of question. The guarantee of rigidity makes it one of your first choices of wheelchairs to settle for when considering buying a performer.
The TiLite is built for speed and accuracy. Precision has been given priority in the design of this wheelchair. This has been enhanced by the speed loader caster that enables you to adjust the load angle accurately yet fast enough.
The TiLite TRA Rigid Titanium Wheelchair has the following features:
Adjustable Rigid Chair
Vertical and Horizontal center of gravity adjustment
Adjustable camber tube with a standard clamp
Forks, Frog leg suspensions also available
Standard front frame angles, 70, 80 and 85 degrees
Rear wheels 22, 24, 25, 26, 27 inch spoke wheels
Adjustable caster angles, rear seat height, back rest, foot rest and camber tube heights.
Seat depths and widths are available in one inch increments from 12 to 20 inches.
Velcro upholstery adjustable and padded nylon sail clothe
Tension strap with adjustable upholstery is optional
Combines wheel locks of Uni-lock or under seat scissors lock
Rear wheel camber
Chair weight of less than 15 pound with wheels