Product Review of the Go-Go Elite Traveler 3-Wheel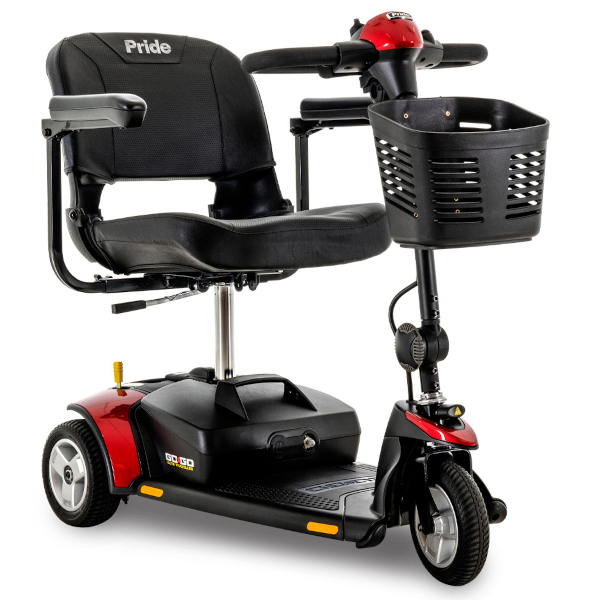 The Go Go Elite Traveller 3- wheel scooter offers easy disassembly, a lightweight frame and a super tight 33 inch turning radius! Versatile and easy to handle, the heaviest piece weighs only 28 lbs for loading in the car. The Elite Traveller 3- wheel has straight handlebars, not the delta style tiller, and features an additional charging port located up on the tiller for easy access. The Elite Traveller features anti-tips on the back for extra security and has a maximum weight capacity of 300 lb.
What Makes This Different:
The convenience of an upgraded battery separates the Pride Go-Go-Elite Traveller from others in its class. Keep the smaller battery for short trips or expand to the 18AH when day trips and shopping expeditions are planned.
Why We Like It: 
We think that Pride's scooters offer users the total package – comfort, reliability and service. The Elite Traveller 3-Wheel scooter goes a step beyond by making it possible to upgrade to a longer-running battery at a very affordable price. At Sportaid, we have experience with all sorts of mobility products and our experience with Pride, their warranties, and their attention to customer needs makes it pretty obvious to us why they're a leader in the scooter industry.
Features:
Least expensive scooter with 300 lb. weight capacity.
Front frame-mounted seat post offers maximum stability.
Pros and Cons:
Pros:
The Power and long lasting battery.
Easy to drive, great tight turn radius, small enough for my 5 ft 200 lb frame.
Comfortable, seat turns backward to pull up to work table, adjustable for height, easy to drive in house & outside.
The turning radius is nice – being able to make small turns is helpful.
Size and weight make it perfect to travel with.
Size isn't too big, you will like taking it with you.
Being able to get around when your body won't go on its own is amazing.
Comfortable, easy to handle, good turning radius, and great value.
It is easy to turn around in small rooms making it easy to use.
The charging receptacle on the tiller is very good.
Battery lasts longer than the simpler Go-Go.
The location of the charging port is great, and the purchase of the larger battery was exactly what you need.
Very good balance and mobility.
Base platform is good.
It is a quality, dependable, light enough to pack and go.
Easy to disassemble and reassemble easily for transportation.
Cons:
 The tires should be a bit bigger and better tread for driving in grass or dirt.
Seat handle hard to reach (I'm 5ft w/ short arms & legs & bad back), handlebars a bit of a reach from seat.
You can tip over if you try to turn sharply.
Is not as easy to take apart, has to be done carefully so parts don't get damaged, especially the battery connections.
Not so mobile for international travel.