The Benefits of the ProBasics Steel Transport Wheelchair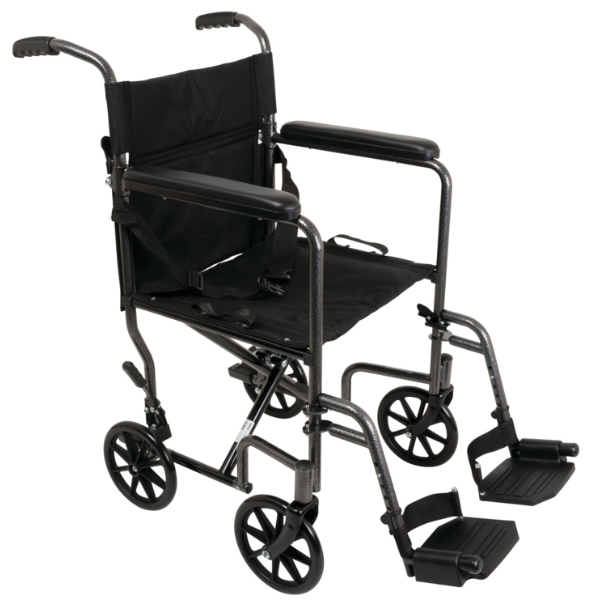 The ProBasics steel Transport Wheelchair is the perfect wheelchair for your transport needs in every public place. If you want to go to the mall for a shopping spree or to the airport or even want to attend a church service. Each wheelchair is crafted with high quality, durable steel with a special silver-vein powder coated finish. The wheelchair also has footrests to match the frame. In this post, I am going to walk you through the features of this wheelchair.
Steel Lightweight Frame
The chair is light but strong. It can carry patient weights of up to 300 pounds. The frame is only about 25lbs. This makes it easy to transport it and a perfect choice for you if you are on the move and need to transfer or change chairs at some point.
Safety First
The ProBasics Wheelchair comes with a fitted seat belt for your safety. The belt ensures your safety as you ride in it outdoor. With this wheelchair, your safety should not worry you.
Padded Nylon Upholstery
Cleaning of your wheelchair seat and parts is necessary. Especially for the wheelchairs that are used outdoors since they get a lot more dirt from the dust and dirt that it collects throughout the day. If you use this chair stay guaranteed that you will clean it easily because it has padded nylon upholstery that is not only easy to clean but ensures your comfort.
Flared Handles and a Handy Back Release
The uniqueness of this wheelchair is the fact that it is a transport wheelchair and thus different from other wheelchairs. The handy back release hinges enable you to easily fold this chair flat and compact enough to fit in any given space and enable ease of its transportation.
Composite Maintenance Free Wheels
The 8″ wheels rubber tires are lightweight and further ensure the wheelchairs light weightiness. The wheels are also maintenance free giving you absolute freedom to ride without the worry of those unwelcome tire issues that always spoil the fun.
Swing Away Foot Rests
These removable footrests are made to help ease your transfer processes. Since the transport chair is basically for outdoor use, it makes it flexible for you to move and change to another mode of transport without finding it a big deal.
Straps for Easy Lifting
After transferring to another seat and have folded your wheelchair flat you require it lifted into the trunk or any place for storage, this whole process may be a workload if the chair does not "cooperate" to be lifted. A strap on the ProBasics Steel chair makes lifting it very easy. Make the request, ask anybody to help you lift into the trunk of the car and they will gladly do it with a smile.
Conclusion
If you are looking for a chair that can be folded and transported easily, is lightweight and will not cost you an arm and leg visit Sportaid and order for the ProBasics Steel Transport wheelchair. Price is not the only thing that matters when it comes to buying the ProBasics Steel Transport Chair, live customer service is priceless!