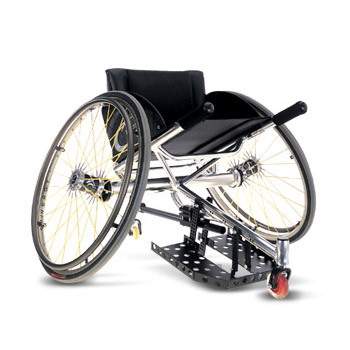 The Colours Xtreme is that amazing wheelchair that unifies your body with the wheelchair giving you every support you need to give the best performance on the court. To excel in any sport you need a wheelchair that is highly responsive the features of Colours Xtreme Pro-Tennis give it a winning edge in the sporting arena. If you are a sportsman you will agree with me that you will need to rely on the rigid body, less flex and agile movements to up your game the colours Xtreme-Pro Tennis gives you all that.
Features of the Colours Xtreme-Pro Tennis
Front and rear seat height adjustment, adjustability in your center of gravity or being able to fine-tune your wheelchair, this is a three-wheeler that will perfectly fit your bill.
To complete the concept of being in unison with your wheelchair, the Xtreme through its rear tube offers you full adjustability.
The vertical and horizontal adjustability of the foot plate allows you to set your foot in the most comfortable position and with your feet properly set you can take on any competition with all your energy.
A fully rotational wheelie bar is an accessory that will give your wheelchair a fourth wheel to boost performance; the Xtreme is the first wheelchair to have it installed on it.
The Colours Zephyr was created with meticulous customers in mind, they do not need anyone to tell them how to sit and function in their wheelchair since they know exactly what they want. The Colours Zephyr is one of the lightest wheelchairs in the market today it's ultra-lightweight makes it unique and a perfect choice for any sports fan. Sportaid offers you this wonderful sport wheelchair that has amazing features which I will share next.
Features of Colours Zephyr Basketball Wheelchair
The wheelchair is light with a frame weighing only 14.5lbs; hence it is portable and doesn't have excess baggage that will hold you back when moving.
Also, the Colours Zephyr is a strong wheelchair; the chair is made with the heat treatment unique technique which gives the wheelchair the strong sturdy feature.
Besides, being strong and light the Colours Zephyr wheelchair comes with a dozen custom options, you are the creator of this wheelchair since you get to design and build it.