Review of the Maxima 4-Wheel Scooter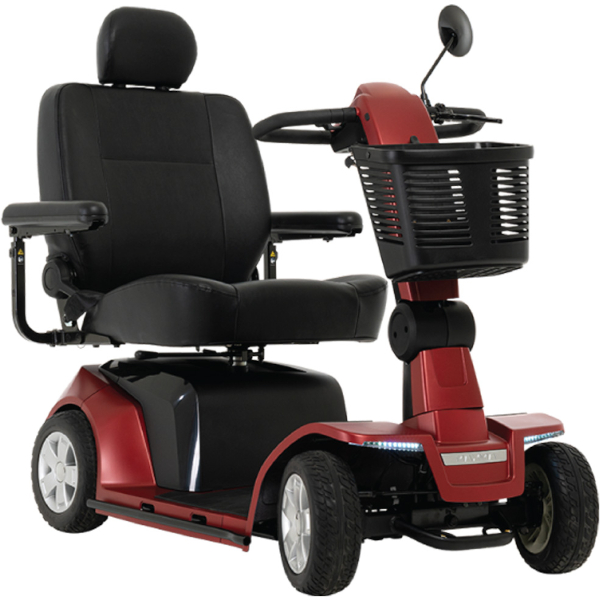 The redesigned Pride Mobility Maxima 4-wheel motorized scooter brings outstanding performance and elegant styling together with rugged construction for a weight capacity of up to 500 pounds. Great standard features include upgraded electronics, an ultra heavy-duty drive train for more power and a redesigned, thicker seat for greater comfort with a 60″ lap belt included. The Maxima also features an easily adjustable tiller, front headlight, durable one-piece frame construction and whisper-quiet drive train.
What Makes Maxima 4-Wheel Different:
The scooter has a great look with the non-marking black tires and silver hub cabs, it also provides a very stable ride. The Maxima is made in the USA and is recommended by the VA so you know it has to be good.
Why We Like It:
The Maxima has been around for quite some time and is a durable, reliable scooter. It has a high weight capacity and a strong motor that can easily handle up to 500 pounds. It also has an option to upgrade the batteries for a greater drive range between charges.
What You Need to Know When Ordering:
The Pride Maxima is too big for use inside a home or assisted living facility because of its 54″ turning radius, but great for outdoor use. It is also not easy to disassemble therefore we recommend purchasing a vehicle lift with the scooter.
 Features:
Upgraded electronics and comfortable seat with 60″ lap belt included.
Durable one piece frame construction and solid tires.
Pros and Cons:
Pros:
Has a Rock solid build with foam tires.
It's easy to use, comfortable, and easy to set up.
There are many adjustments that you can use to set the scooter up for you as an individual.
It is sturdy with great turning radius.
The four wheels, the colour, the way it handles on the lawn, is amazing.Well built and comfortable scooter with ease of operation.
Stable on rough terrain, reliable power.
Cons:
The seat is too low need to drill more holes to make it higher. Especially if you are a tall person and need more leg room.
Visit Sportaid for wheelchair accessories, cushions, Wheelchair Wheels, Tires, Tubes & Parts. Price is not the only factor to consider when buying wheelchairs or wheelchair accessories, the fast delivery from Sportaid is a crowd pleaser!