Mobility made Easy: A Review of the Quickie GP Swing-Away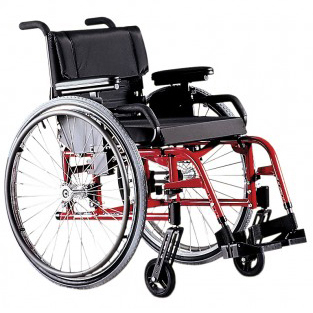 The Quickie GP Swing-Away is a solid, rigid framed wheelchair. This wheelchair offers swing-away removable footrest for easy transfers. And as if that is not enough, it also offers detachable, height armrest option. Keep reading for more about the Quickie GP Swing-Away.
Features of the Quickie GP Swing-Away:
The options of the armrests allow customization which will enable you to mount a tray and also position upper extremities.
It has a rigid frame with swing-away removable footrests.
For even more positioning abilities, the chair has articulating and elevating leg rests.
A variety of seat depths and widths is also available for maximum comfort.
For easy portability, the GP comes with quick release axles that make removal of rear wheels easy.
It also has multiple wheels and caster options.
The Pros and Cons of the GP Swing-Away:
Pros:
It is well constructed and good looking for a chair with swing- away footrests.
The chair is light yet very sturdy. This makes it portable.
Unlike chairs that have wheels and spokes, the mag wheels combined with the airless tires give the GP a longer life.
The rigid design, wheel bearings and pneumatic tires give an amazingly low rolling resistance a feature of any rigid type wheelchair.
Your personal tastes and preferences will be fully taken care of with the GP, thanks to the ability to fine-tune its parts.
Your comfort is further enhanced by the fact that you can make adjustments of the wheel width, foot pads, brake adjustments and seat back height.
The chair has high-quality components generally.
Cons:
The addition of armrests tends to set the wheels too far apart. It makes it a little uncomfortable.
The caster forks have rugged edges; this may damage your wooden surfaces indoors.
The bottom line is that the GP Quickie Swing –Away is a wheelchair in a sea of wheelchairs created to make mobility easy for you. From the review above, the features of the chair are worth not missing on and the pros outweigh the cons. The addition of armrests that sets the wheels far apart will become unnoticed with regular use, the sharp edges, on the other hand, can be padded and you will be good to go in your GP Quickie. Visit Sportaid for wheelchair accessories, wheelchair cushions & backs, and other accessibility equipments.