Product Review for Quickie Breezy 600 Wheelchair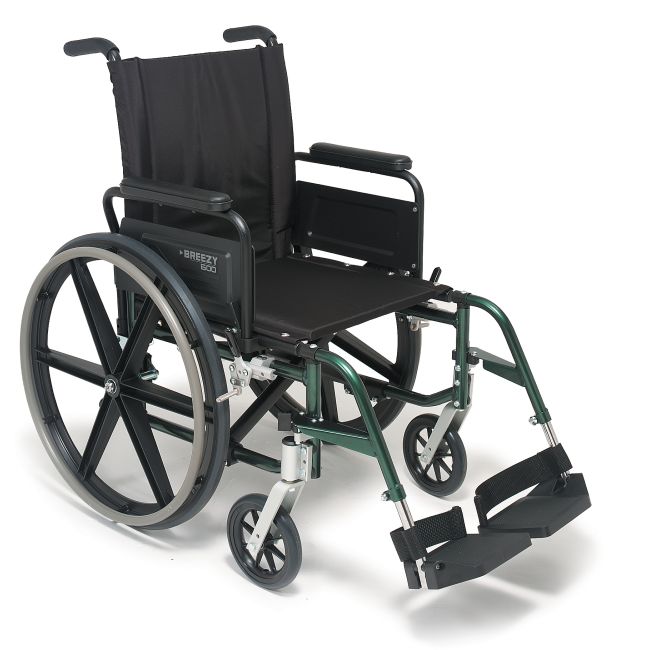 The Sunrise Medical Breezy 600 wheelchair is a great choice for those seeking a light, easily portable wheelchair. The chair features a lock crossbrace and an overall design that is focused on being as easy to move as possible. The ability to customize the wheelchair to your preference, make it one of the best wheelchairs on the market.
Features:
Flip-back fixed-height armrests and swing-away footrests.
Great color options: forest green, black, blue and silver texture.
70º footrests available for tighter turning radius.
Padded seat sling for extra comfort.
Scratch-resistant composite handrims standard.
Weight of 28 lbs. does not include footrests.
The Pros and Cons of the Breezy 600 wheelchair:
Pros:
Light and easy to put at the back of the car.
Compact so it can fit through doorways and narrow hallways.
Metal is structurally sturdy. Wheels glide smoothly it is built soundly.
Removable feet and tip back arms, comfortable.
Nice looking. It also has a Footrest hooking mechanism.
Retractable arms, ease of use.
This chair is very easy to manoeuvre and can turn on a dime.
Range of colors to choose from.
The 8″ front casters and the foam filled large rear tires do a lot to make the ride on rough paved surfaces smoother.
The size is customized for fit and comfort.
Cons:
The back is too high. You can take care of this by using cushions for comfort.
The back of the seat could be made of sturdier material.
Recommendations:
No pocket on the backrest, you can purchase a bag to carry your personal items. You may prefer metal hand rims since the plastic ones are not very durable, but that would add weight. Paint chips very easily, you need to take care when making any adjustments and when adjusting the foot rest.
Visit Sportiad to place order of this wheelchair and ask any query from the quick customer support!