Invacare Tracer EX2 Wheelchair – A Review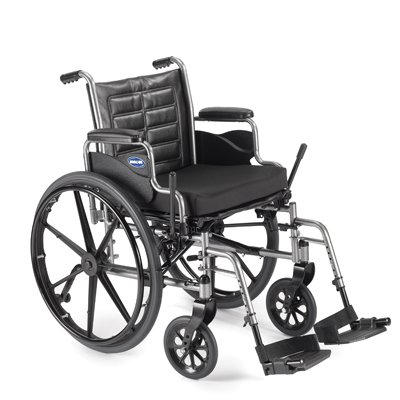 The Tracer EX2 Series offers features and options not available on other standard wheelchairs. The Tracer EX2 is a rugged, steel framed chair with strong vinyl upholstery that will last a lifetime.
The Invacare IVC Series Tracer EX2 wheelchair sets the standard in manual wheelchairs by combining the design and technology of the Invacare 9000 series and incorporating it into the Invacare Tracer Series. The Tracer EX2 design and the Invacare 9000 parts are interchangeable.
The dual axle position allows seat to floor heights of 17.5″ or 19.5″ by repositioning the rear wheels and 8″ casters. A lower seat to floor height is achieved by utilizing smaller front casters and rear wheels.
The Tracer EX2 is available in seat widths of 16, 18 or 20″.
Optional accessories include: brake extensions, anti tips, cup holder, oxygen tank holder.
Product Features:
Folding wheelchair.
Removable arms.
14-gauge crossbraces add strength and durability.
Dual axle positions allow variation of seat- to-floor heights.
Durable, low-maintenance, carbon steel frame is long-lasting.
Silver Vein colored frame is powder-coated and resist rust and scratches.
Urethane rear tires, mounted on "no flex" wheels, offer superior performance.
Weight Capacity: 250 lbs.
Comes with dual axles plus removable armrests.
16″, 18″ and 20″ seat widths at no extra charge.
Full range of options including oxygen tank holders and multiple leg rests.
Folds to 13″ width for travel and storage.
Silver vein finish on carbon steel frame.
14-gauge cross braces add durability and strength.
Dual-embossed upholstery.
The Pros and Cons of the Tracer EX2 Wheelchair:
Pros:
The chair is lightweight and easy to move around the house.
The Tracer EX2 wheelchair is well built and reasonably priced.
The armrests and footrests are removable.
Lightweight to lift into trunk, removable arms, adjustable axle height 16″ & 18″, swing-away/lift off foot rests.
The seat and backrest are vinyl, so it's easy to keep clean.
Easy to adjust the height of seat.
Good quality, desk length arm rests and anti-tippers are available. Removable parts (leg rests, arms, etc.) allow for flexibility of use.
Handy, durable and pretty.
Easy to use and get used to. The instructions are clear and concise. Easy-to-use and handle. Not heavy or too bulky to handle alone.
Sturdy enough to handle a fairly large individual.
Easy to manoeuvre.
Comfortable and does not leave black smudge marks on the carpet.
It is easy to self propel and to have pushed. It is level with toilet fixtures in handicap accessible bathroom stalls.
Cons:
20″ seat models cannot pass through normal door openings.
The wheelchair tends to be heavier when the armrests and legrests attached.
No back pocket to bring small items, like pills, tissues, prayer articles, etc.
The above review clearly depicts that the pros overcomes the cons. Visit Sportaid for huge discount of up to 50% for this wheelchair. Also at Sportaid, you can chose from varieties of  wheelchair accessories, wheelchair tires or tubes, wheelchair cushions & backs or cushion covers. Along with discounts, high quality products and fast customer support services are award winning and priceless.