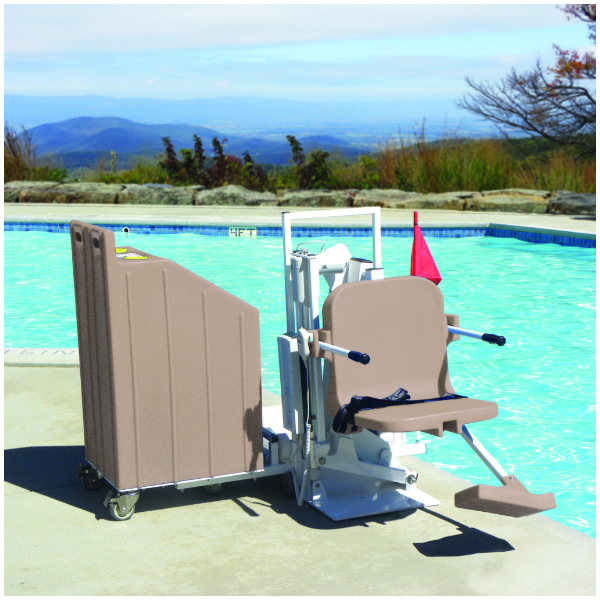 Sportaid presents the weight champion Portable Pro Lift. If you are worried about finding a lift that can take your weight comfortably then your search stops here. It is ADA compliant and hence recommended for commercial use. The patriot is created with many amazing features that make it a perfect choice for anyone looking for a perfect lift. The lift's design has been improved in recent times giving it even more fantastic features.
Features of the Patriot Portable Pro Lift by Aqua Creek
The lift has a weight capacity of 375 lbs (170kgs).
It comes with a rechargeable battery with a wall mount charger; it ensures that your lift is powered every time anywhere.
The flip-up armrests that this lift has helps you to transfer in and out of the chair safely.
Adjustable Lap belts further enhance your safety by ensuring that you are firmly secured in your seat.
The water-resistant handset makes it easy for you to operate this lift.
Removable and adjustable footrest ensures that your comfort comes first you can adjust the footrest or remove it altogether as you may desire.
The lift is made of stainless steel. This material is long lasting, the powder coat finish give it a durable and attractive look.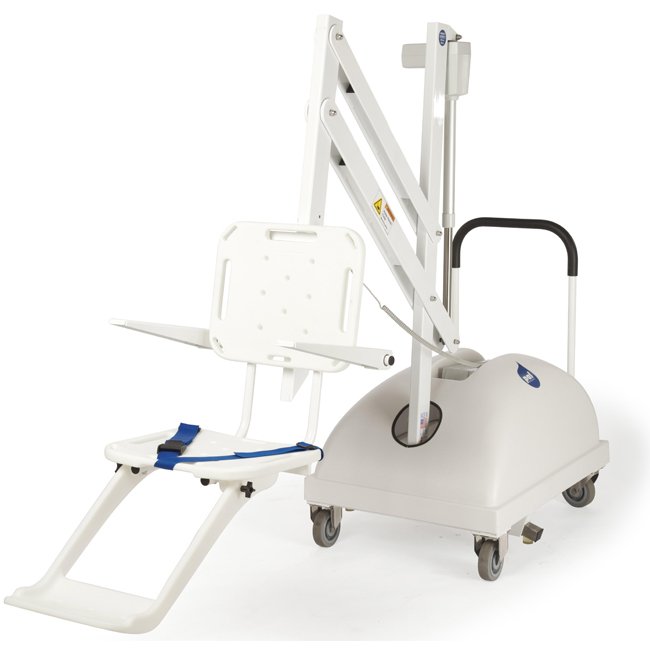 The PAL Portable Hi/Lo Lift can be adjusted for use in an in-ground pool or on a pool that is on a high ground. The seat comes with both high and low settings to suit facilities with both types of pools, you should note however that the lift cannot directly transfer you from an above pool to an in-ground pool. The lift has fantastic features which I will focus on in this post.
Features of the PAL Portable Hi/Lo Lift by S.R Smith
It has a weight capacity of 300 lbs; fairly heavy individuals can use it comfortably.
The lift is absolutely portable as the name suggests and it, no deck fixtures are added therefore can be easily moved by one person.
It can be stored away when not in use.
A 24-volt rechargeable battery powers this awesome lift.
You can operate this lift by a waterproof hand control that is simple to use.
This lift features a 240° rotation. It ensures your safety by giving you a safe transfer area.
The lift is made from strong, durable material. Aluminum and powder coated stainless frame and seat is sturdy and built to last long.
The seat comes with a charger, a battery console cover.
Your safety is guaranteed with the seatbelt assembly that comes with the lift.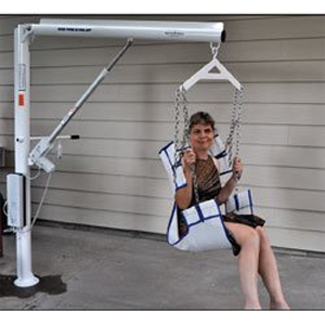 Experience the power of the Super Power EZ Lift by Aqua Creek in every lift at your pool with this incredible lift that has excellent features. The lift is made to give you accessibility to above ground pools and spas at economical prices. The lift offers you the option of sitting on a mesh sling seat or a hard one. It is built to serve you for a longer period of time as it most reliable lift. Before we learn about the pros and cons of this lift, let us focus on the features of the Super Power EZ Lift by Aqua Creek first.
Features of Super Power EZ Lift by Aqua Creek
It has a weight capacity of 181 kg (400 lbs); most individuals can comfortably sit in this powerful lift.
The adjustable stainless steel chains enable you to adjust them to the length that is most comfortable for you.
You can either choose to use the mesh sling seats or opt for a hard one that is as effective as this.
Besides, the lift has a water-resistant handset it cannot get affected by water.
And to ensure that you get the best out of the lift, the rechargeable battery with wall mount charger ensures that your lift is powered to lift you for all the fun you may need.
The stainless steel construction is ideal for use at the pool; it won't rust or get corroded by water.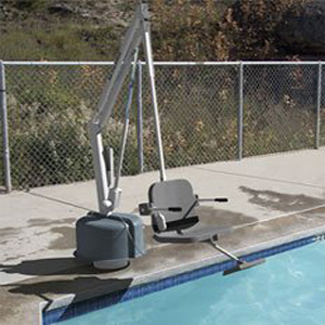 If you are struggling with finding the right pool lift your search stops here at Sportaid, it presents to you the Titan 600 Lift by Aqua Creek which has among the highest weight capacity in the lifts market today. And it does not stop here; the pool lift has other incredible features that I will share with you in this post.
The Features of Titan 600 Lift by Aqua Creek ADA-Compliant
The lift comes with a 22″ extra wide seat, a perfect size that will ensure comfort even for the fairly large individuals.
Dual flip-up arms are ideal for safe transfers, it is easy to get in and get out of the seat without risking falling off.
The lift has removable and adjustable footrests that ensure you sit comfortably and enjoy every moment at the pool.
It also features a water-resistant handset which ensures the handset is not damaged by water with continued use.
This lift has a rechargeable battery that can be easily charged, and that is not all, the wall mount charger further makes it super easy for you to charge it.
The titan ensures that you are secure with the lap belt it has, the belt is adjustable so it can fit all comfortably.
This amazing product is of the best quality. It is constructed from stainless steel which it does not rust or get corroded with time.
The powder coat finish does not only enhance its durability, but it also gives it an elegant look that makes it an eye-catching piece.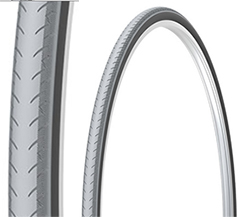 Wheelchair tires need to be taken care of for maximum reliability. Protect your tires from punctures with the best technology from Kenda whether for the court or everyday use, the Kenda Court Iron Cap Wheelchair Tires are the best choice. Sportaid presents these caps in a full range of sizes ranging from 24″, 25″ 26″, 700 c x 1″ (23-540, 559, 590, 622) Pair. You can choose from different available colors of grey, red blue and yellow for a colorful ride.
Features of the Kenda Court Iron Cap Wheelchair Tires
The fabulous cap wheels come in a range of sizes, they range from 24″, 25″ 26", 700c x 1″, you have a wide variety to choose from.
Add color to your ride by choosing from the different color options that the Iron Cap Wheelchair Tires are available in. They come in red, blue, yellow and grey.
The Cap wheelchair Tires are non-marking. You will enjoy riding your wheelchair with these tires.
Kenda Court Iron Cap Wheelchair Tires operated up to pressure of 110 psi.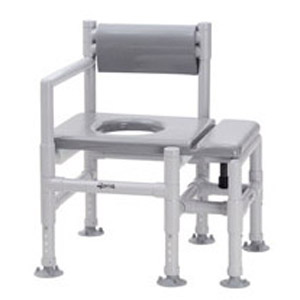 A lot of people living with disability have a tough in the bathroom. However, when you have the quantum Bath Chair with Commode you have every reason to confidently get into the bathroom and take your bath in total comfort. And the good news is that you can take this chair with you wherever you may go. Sportaid offers you this and other amazing products; I will let you know the features of this bath chair in a moment.
Features of the Quantum Bath Chair with Commode Seat
The Quantum Bath Chair has been built for durability. The commode hole style seat is internally rounded and covered in foam to ensure your comfort.
You can either access the bath chairs using the right or left entry, the chair has a reversible left or right side entry.
The assembly of this chair is simple; you do not need tools to put it together.
It has a weight capacity of 350 lbs, an ideal choice for everyone.
Manual lifts work just as efficiently as powered lifts. The Handy Lift is a manual hydraulic lift that is a piece you can purchase for your own residential use. It does not meet the ADA standards but that is not to say that it is not efficient, it is an ideal pick for use at home. Sportaid has this fantastic lift that comes with incredible features, keep reading to find out the detail of the features and why you should purchase it at Sportaid.
Features of Handy Lift by S.R Smith
The Handy Lift has a heavy duty mesh sling that facilitates safe and easy transfer to and from the pool.
 It is made of 1.90″ OD x .145″ wall stainless steel material, which gives it the ability to last long.
The lift is operated by someone other than the user; it is easy and safe to do so.
This lift has a weight capacity of 400 lbs. It is able to lift the heavy individuals comfortably without compromising their safety.
It requires a semi-permanent installation; it can be easily removed from the anchor.
This Multipurpose Wheelchair can be used as a swimming pool chair as well as a shower chair. You can go with it right inside the swimming pool and it will never be corroded or rusted. It is 100% waterproof, this makes it durable. The mesh that makes up the seat will quickly dry after any contact with water. Sportaid offers you great discount offers not only on this wheelchair but on all their products. Keep reading to find out the detailed features of this wheelchair and why you should choose to purchase it at Sportaid.
Features of Anthros Medical Pool and Shower Wheelchair
No matter how many times you get this wheelchair wet it is fact that it will never get rusted.
The wheelchair is strong; it has a weight capacity of 300 lbs. The wheelchair is sturdy enough to handle the mentioned weight without breaking.
You can either have the standard mesh upholstery on the seat or opt for other types of seats that can easily be fitted on this seat.
The wheelchair is easy to clean and with the waterproof material used to make it is easy to keep it squeaky clean.
It has a contoured back, this ensures that you maintain a good sitting posture and also sit in comfort.
The wheelchair has swing away arms that make transfers in and out of the chair both easy and safe.
Stability is paramount for any wheelchair user. The Anthros Medical is not an exception. It features an extended base that increases its stability.
It also has 24″ rear wheels and 5″ front casters; that work hand in hand to give you the best ride.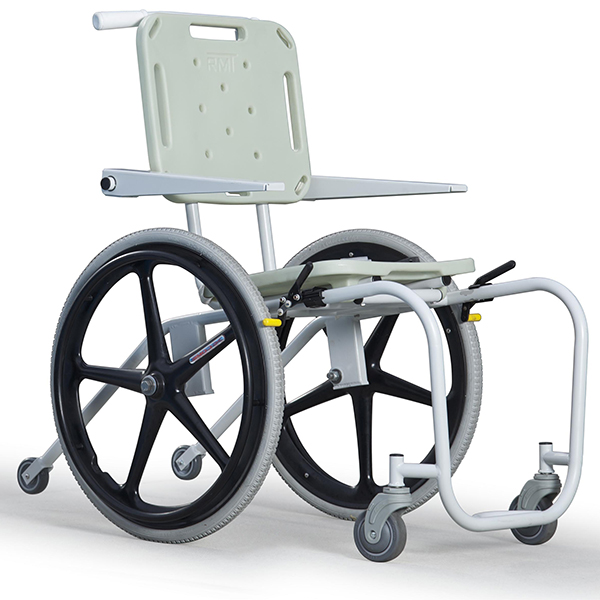 This Unique Pool Wheelchair is built to ensure your mobility in aquatic environments is made super easy. It is created with amazing features that not only facilitate movement in aquatic environments but also makes transfers comfortable, safe and easy. The MAC Mobile Aquatic Pool Wheelchair is best used at facilities that utilize a ramp, have a zero-depth entry or has a movable floor. Sportaid offers you this incredible chair that is a must-have for anyone who loves a splash at the pool. I will let you in on the features of this fantastic chair next.
Features of MAC Aquatic Pool Wheelchair
The rear wheels are built to provide utmost stability to the chair in the water. You do not need to worry about toppling over in the water, your stability is guaranteed.
This chair has an elegant eye-catching stainless steel frame. The frame's durability is enhanced by the powder coating that inhibits corrosion and rusting even with regular use in water.
Your security during transfers both on and off the chair is assured; this is made possible by the flip-up armrests that ensure zero chances of accidents during transfers.
The uni-body frame further ensures that your chair lasts long. The frame is sturdy and gives the wheelchair long life.
With a seat width of 18″ and 300 lbs weight capacity, the chair is an ideal choice for individuals of a fairly large size and weight comfortably.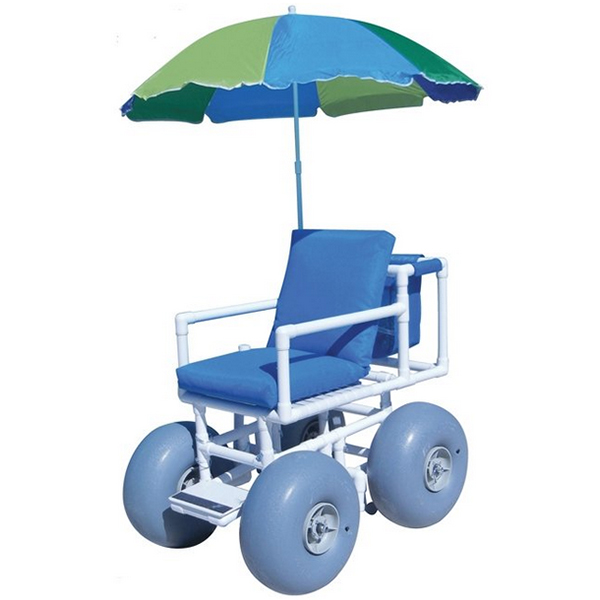 It is always summer somewhere and so when it comes around you do not need to stay indoors and miss out just because your wheelchair won't let you access the beach with the entire fun, fill your heart with joy and all the summer magic at the beach with the Aqua Creek Beach Access Chair that will ride through snow, sand and soft soil with ease.  Let us focus on the details of the features of this fabulous chair next.
Features of Aqua Creek Beach Access Chair
The chair comes with a seat belt for your safety. You do not need to be afraid of tipping over as you plough through the sand at the beach or the snowballs on the road.
Leaving your house for the sunny outdoors is important, you will get the required dose of vitamin D, but that is not to say that you should expose your skin to the sunburn or even get all soaked up in case there is a sudden downpour. The Aqua Creek comes with an umbrella so come rain or sun you are good to go.
Besides, the chair has a storage bag that will make it super easy for you to carry whatever you may need while outdoors. Carry your personal stuff in comfort and convenience.
A comfortable cushion seat graces the seat of this fantastic wheelchair. The comfortable cushion ensures that the fun is not cut short by the discomfort of your seat.
Single motion park brakes are fitted on the wheelchair to ensure your safety. The chances of crashing as a result of brake failure are zero.
The chair has a weight capacity of 300lbs, the seat height is 25″ and 34.5″ wide so it can easily access any doorway.