Adaptive Fishing Kit by Handi- Fishing That Never Stops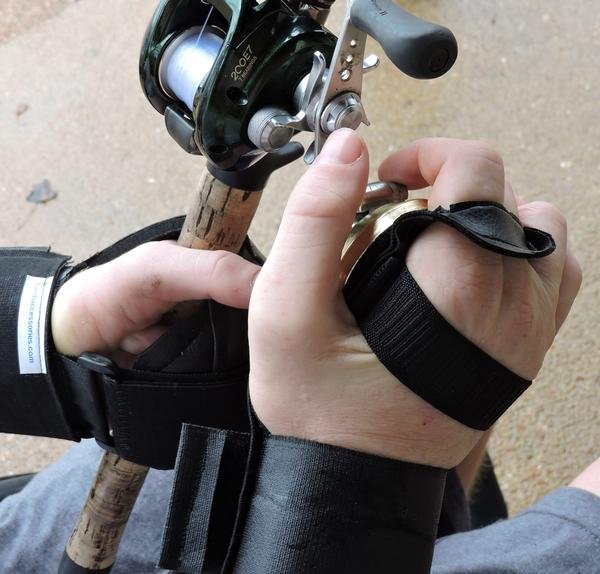 The loss of limb function or mobility should not stop you from enjoying your favorite sport. Sportaid has an adaptive fishing kit that will have you continue enjoying your fishing sport and if they are your relish, then you still have too many fishes to fry! The fishing kit from Handi includes the grasping cuff, fishing palm cuff and the reel deal. You can choose to buy it as a complete kit or only buy a piece of the three. They have the following features.
The Reel Deal
The reel deal is the real deal for individuals with limited or no hand function. It comes with the following features.
It securely attaches to the bait casting and spinning reels where the handle is no more than one inch wide at the knob's widest point.
It is removable and can be attached to another reel handle. It will not properly attach to T-bar handles. Heavy duty Velcro on the outer side of the Reel Deal attaches to heavy duty Velcro on the Reel Deal Cuff.
The Reel Deal works in collaboration with the cuff, it allows an angle to attach their hand with the cuff to the handle with the reel deal on it and reel in your line or fish.
You can easily detach your hand from the handle for casting.
Reel Deal Palm Cuff
The palm cuff is designed to fit over two of your fingers- any two that you are comfortable using. The cuff is secured around your wrist with a Velcro strap. There is heavy duty Velcro on the palm of the cuff.
You will put your hand with the cuff on it on the heavy duty Velcro portion of the Reel Deal to begin reeling. Seuls les sites de pharmacies en ligne agréés par l'Ordre National https://asgg.fr/ des pharmaciens peuvent en délivrer en ligne et une ordonnance sera nécessaire. The cuff is used hand in hand with the Reel Deal.
Reel Deal Grasping Cuff
The fishing grasping cuff is designed for the disabled angler with limited or no hand function.
The grasping cuff curves your hand and allows for a fishing rod to be placed in the curve of your hand.
The cuff can be tightened to fit your needs. The grasping cuff has Velcro on the wrist and over the top of your hand.
It is designed for quads.
Easy to put on independently.
Large O-rings to help secure straps.
Available for right or left hand, but cuffs are interchangeable.
Conclusion
The adaptive fishing kit is available at Sportaid at a pocket-friendly price. It is the perfect gift you can give to a friend or family member who you know loves fishing but is not able to grab the rod and do it. Make your order today here and let the Sportaid ships your order within no time.