A Review on the product Monark Compact Rehab 871 E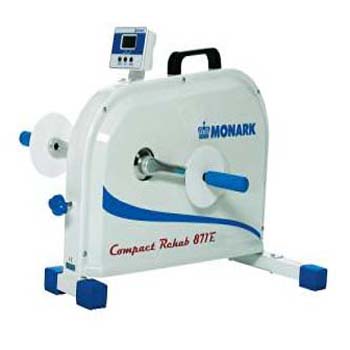 Exercise is important for your health; it not only benefits your physical being but also is ideal for your psychological well being.  And as you may know, rehabilitation of disabled people is a basic requirement for their well being. To make it an easy and comfortable process, the Monark Compact Rehab 871 from Sportaid is here to help. It is small, easy to use training equipment ideal for hospitals and rehabilitation centers. Keep reading to find out its amazing features and why you should buy one from Sportaid.
Why Choose Sportaid?
There are lots of companies dealing in wheelchair and wheelchair accessories as well as equipment and aids for the disabled, some of them are in the business solely for making sales that is not us; We are different.
We know that a good order can be made or ruined by poor customer service. To ensure that you are always served to your satisfaction we have a highly trained and ready to serve you team. They are very responsive and are always ready to answer any question you may have.
Sportaid offers you the best prices in the market. Our products are affordable and are selected from the best in the market. Buying from us is a guarantee that you are getting the best there is in the market.
Quality is what we emphasize. We stock quality products from the best companies in the market. We believe that your mobility will only be assured of safety if it comes from the best. The wheelchairs, canes, walkers to mention a few are of the highest quality. We do not do counterfeits; we know it's about your mobility. It should be safe.
Features of Monark Compact Rehab 871 E
Electronic readouts of pedal r/min, total pedal revolutions and time.
Be in control with the control knob for adjustment of brake force
Powder coated paint finish that gives it a nice looking finish and ensures it's easy to clean
Handle for easy lifting and transportation
The Pros and Cons of the Monark Compact Rehab 871 E
Pros
The trainer is easy to use; no much effort is needed to operate it.
It is small and portable; you can carry it with you easily thanks to its built-in handle on top of the unit.
The Monark is ideal for both patients that have progressed in their rehabilitation program and those who have just begun.
Has a pair of crank arms with handles and foot pedals, this enables you to exercise both your upper and lower body.
It has Bi-directional pedal motion.
Cons
The Monark costs much compared to other trainers, but then it is worth it because it is the best quality available.
Conclusion
This smooth running rehab trainer is your ideal training partner, make your order today at Sportaid and look forward to your next training session.