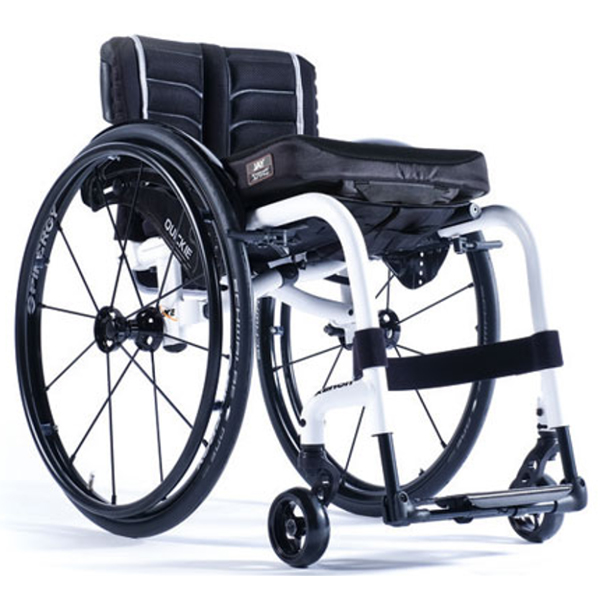 Introducing one of the world's lightest folding wheelchairs, weighing about 8kgs only and easy to fold, lift and transport. Your active, mobile lifestyle should not be hindered by your confinement to a wheelchair, quickie xenon's rigid frame which is a confined fixed front-frame and streamlined design are the ideal wheelchair for maximum performance.
What makes the chair unique is the ultra 7000 aerospace frame crafted out of aluminum. The shapeLoc technology that it posses doubles its strength, makes the walls thinner and hence greatly reduces its total weight. The ovalised tubing gives the chair the sturdiness and lightness that maximizes speed and strength with every push.
At the heart of the Xenon² is a perfectly designed cross-brace that fits like a glove under the seat. It is not noticeable and the axle stem compliments it providing a stable, stiff chair found in a rigid frame but while at it offering the easy to transport folding chair. Continue reading →
There is no better feeling you get when you know that you are getting the best from a product you purchase. The Quickie GT gives you that satisfaction. The modular frame and interchangeable components ensure that you get more than what one wheelchair would normally offer you, while the ability to easily adjust the back rest and solid optional front and rear suspensions ensures a comfortable ride this wheelchair. Sportaid.com presents this one of its kind wheelchair with amazing features.
Open Frame Design
A wheelchair user must at one point need to load and unload his chair from a vehicle or any other mode of transport. The design of a wheelchair determines how easily one can go about this daunting task. The Quickie GT has an open frame design "L" shaped for easy movement across the driver's seat. The optional folding push-handles and standard folding backrest enhances this. Continue reading →