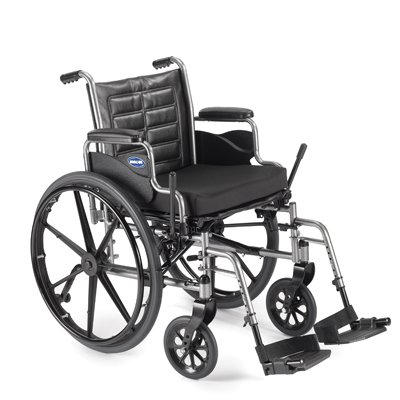 The Invacare Tracer EX2 Deluxe is built with a durable frame that makes it a high quality standard chair. It presents unique features not found on any other wheelchair in the market including a hemi seat-to-floor height an ideal feature for those users who prefer propelling with their feet. It also offers a full range of accessories that will enhance your comfort. It basically sets the standard of manual wheelchairs.
The hand rims have 8″ solid rubber casters and the arm pads are padded for optimum comfort. It also has wheel locks which ensure you do not tip over during transfers. the upholstery is easy to clean black vinyl; these combined with the option to adjust the arm rest lengths to either desk length or full length to suit both home and office use make it a standard wheelchair.
The Invacare Tracer has a weight capacity of 250 lbs. You can comfortably ride this chair confident that your weight is perfectly supported. It can be easily folded making it easy to transport.
The Invacare Tracer EX2 Deluxe features include the following;
14-guage cross braces for more strength and durability
Dual-embossed upholstery which does not easily stretch and tear
13″ width foldable for travel and easy storage
Seat can be adjusted to 17.5″ and has a hemi option
Dual axles and adjustable, removable arm rests and leg rests
Weight capacity of 250 lbs
The Pros and cons of the Invacare Tracer EX2 Deluxe Continue reading →