Super Power EZ Lift by Aqua Creek, the Power Lift you Need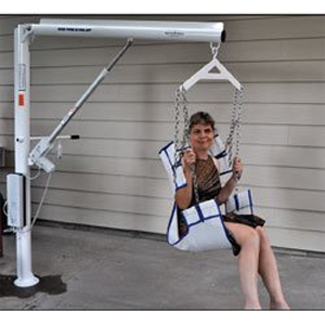 Experience the power of the Super Power EZ Lift by Aqua Creek in every lift at your pool with this incredible lift that has excellent features. The lift is made to give you accessibility to above ground pools and spas at economical prices. The lift offers you the option of sitting on a mesh sling seat or a hard one. It is built to serve you for a longer period of time as it most reliable lift. Before we learn about the pros and cons of this lift, let us focus on the features of the Super Power EZ Lift by Aqua Creek first.
Features of Super Power EZ Lift by Aqua Creek
It has a weight capacity of 181 kg (400 lbs); most individuals can comfortably sit in this powerful lift.
The adjustable stainless steel chains enable you to adjust them to the length that is most comfortable for you.
You can either choose to use the mesh sling seats or opt for a hard one that is as effective as this.
Besides, the lift has a water-resistant handset it cannot get affected by water.
And to ensure that you get the best out of the lift, the rechargeable battery with wall mount charger ensures that your lift is powered to lift you for all the fun you may need.
The stainless steel construction is ideal for use at the pool; it won't rust or get corroded by water.
The Pros and Cons of the Super Power EZ Lift by Aqua Creek
Pros
The durable coat finish gives this amazing lift a cool look and ensures you never have to deal with rust.
It is reliable for providing accessibility for above ground pools and spas.
The power EZ is capable of clearing walls up to 58 inches high and 10 inches thick.
Cons
The Super Power EZ may seem to be a little costly for some people, its quality and unmatched features, however, give you value, you will agree with me that it is all that matters at the end of the day.
Conclusion
The choice of a pool lift may be an uphill task for anyone regardless of whether you are a newbie or an experienced folk. Sportaid will give you all the information you need and as a result, help you make a choice on the lift that you need. They have reasonable prices and a wide range of high-quality products that include the Super Power EZ by Aqua Creek among others.