Quickie All Court Titanium Basketball Wheelchair – The King of the Court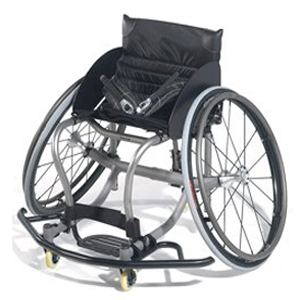 Are you looking for a basketball wheelchair that will change your court experience? The Quickie All Court Titanium Basketball Wheelchair is the perfect choice of a wheelchair designed with the sportsman in mind. Its cool design was created from the Quickie Ti with improvements in weight and a frame that enhances absolute durability.
Features of Quickie All Court Titanium Basketball Wheelchair
Center of Gravity Adjustment
The patented center of mass adjustments provides a center of gravity adjustment that requires no change in fork size, caster size, or fork hole location. This gives you the freedom to optimize your wheelchair's efficiency and maneuverability without going through the hassle of adding extra parts.
Titanium Frame
It makes sense to have the Quickie All Court come as light as possible owing to the fact that its main task is to hit the court. The low weight gives you a wheelchair that you can count on for tough competitive performances and also titanium gives your wheelchair a longer life since it is scratch and corrosion resistant.
Basketball Frame High-Quality Components
To take on aggressive games the All Court is built with a lightweight single-wing bumper. Also for stunning maneuverability, the anti-tip fifth wheel that is either available as a single or double allows you to shift your weight to the rear wheels.
The Pros and Cons of the Quickie All Court Basketball Wheelchair
Pros
The wheelchair comes with already set adjustments like the center of gravity. This makes it easy to use without having to add complexities or extra parts.
It is lightweight and will have your back during heated up performances that rely on fast movement. The lack of bulkiness will give you the speed that will make all the difference on the court.
The Quickie All Court is stable, also its anti-tip brace locks the rearward into the frame it powers your shots every time you lean back to give a powerful shot.
This wheelchair is built for longevity. The Titanium used to create it is non-corrosive and scratch resistant; this is an assurance that you will use it for more active days on the court.
Cons
The Quickie All Court is may seem hard to use at first but once you get used to it you will enjoy the speed and performance it offers.
Conclusion
Sportaid offers you the Quickie All Court Basketball Wheelchair at the best deal. Its price is affordable and Sportaid discount offers further ensures that you make a big save when you buy it. And they do not stop here; the incredible customer support is an experience you will not find elsewhere else. Be in charge of your every move and turn on the court with the All Court for as the name suggests the features of Quickie All Court Basketball Wheelchair make it the is the Master of the Court.