Invacare Tracer SX5 Recliner is the Best Wheelchair for you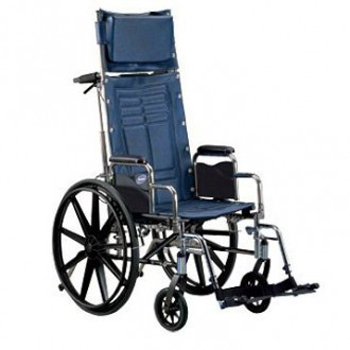 A reclining wheelchair is a wheelchair whose back rest reclines. These types of wheelchairs are typically lighter in weight as compared to other wheelchairs. They are best suited for users with orthostatic hypotension and hip extension contractures. They allow the user to re-distribute weight to avoid skin break down.
Full Reclining Range from 90-180 degrees
This feature makes the Tracer SX5 unique wheelchair. The reclining back ensures the comfort of the user, as one can adjust to the angle that is best for them. The reclining movement helps to prevent pressure sores. It is a perfect choice for the elderly who tend to doze off when with family or even when out visiting.
Padded Calf Rest
You will agree with me that sitting in the same position in a wheelchair will no doubt make areas that come into contact with the parts of the chair experience some kind of discomfort. That is the reason why this wheelchair has padded calf rest for maximum comfort while reclining.
Urethane Rear Wheels
The tires are set on no-flex tires with state of the art sealed precision bearings. These components allow for speed, durability, superior performance and above all no maintenance required.
Desk-length Fixed Height
The provisions enables one to use this wheelchair like any other office chair. The dual axle allows for conversion to hemi-height. The desk-length height ensures working in comfort, while the removable arm rests can be used as desired for the users comfort.
Heavy Duty Inner Liners
This wheelchair has inner liners on its back and seat. The lines prevent the parts from stretching and giving in to wear and tear creating discomfort for the user as they encourage friction. Their heavy duty nature ensures their toughness and resistance, hence not easily damaged.
Carbon Steel Frame
The strong frame is triple-chrome plated. This gives the tracer SX5 recliner the durability that is fully posses and it is plain to see that this wheelchair was built to last.
On the other hand, if you are looking for a wheelchair that you can fold and bundle in your car trunk then consider other options as this will not be a best choice for you. If you are evidently active and youthful you may want to avoid this chair, for it is a little bit heavier and most model are not self propelled.
However if you are looking for a comfortable and durable wheelchair that considers irritating issues of mild dew, bacteria, cold-cracking and UV damage. Then look no further, the Invacare Tracer SX5 Recliner is what you are definitely looking for.
Price is not the only thing that matters when it comes to buying your new Invacare Tracer SX5 Recliner from sportaid, great customer service is priceless!