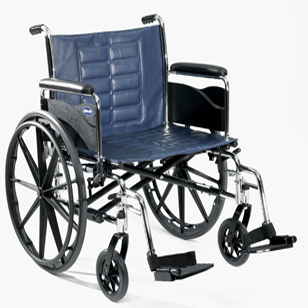 Superior durability, roll ability and streamlined looks are what the Invacare Tracer IV Custom heavy-duty wheelchair is all about. There are two weight capacity options, 350 lbs. and 450 lbs. and eight different seat size configurations. The Tracer IV is designed for individuals who need the strength of a reinforced heavy-duty frame.
Features:
350 lb. and 450 lb. weight capacity options.
Dual axle positioning for variation of seat to floor height.
Durable, low-maintenance, carbon-steel frame.
Dual cross braces are standard on the reinforced frame.
Heavy-duty inner liners keep seat and back from stretching.
24″ composite urethane corded tires standard on 350 lb. frame.
24″ HD composite pneumatic with flat-free inserts standard on the 450 lb. frame.
The Top End Pro is a basketball player's dream chair. It features high performance sports wheels, high pressure clincher tires, quick release axles, adjustable height fixed swivel ant-tip with a 58 mm fifth wheel and a smart fork caster system equipped with super hard 72 mm front casters. This durable and attractive chair will stand up to whatever you throw at it with its fixed camber and fully welded aluminum base. Additionally, this chair has adjustable front seat height, center of gravity, back height/angle, back upholstery and footrest positioning: fore/aft, up/down, angle the chair adjusts in the blink of an eye, which is a nice change from the way other basketball chairs operate.
What Makes It Different:
This chair is in a class of its own because it allows you to adjust it to your own unique specifications. Combine this with an adjustable footrest that allows you to get into the game either with your feet out (and secured by the toe stop and strap) or tucked securely away, and you have a chair that always comes up as a winner. Continue reading →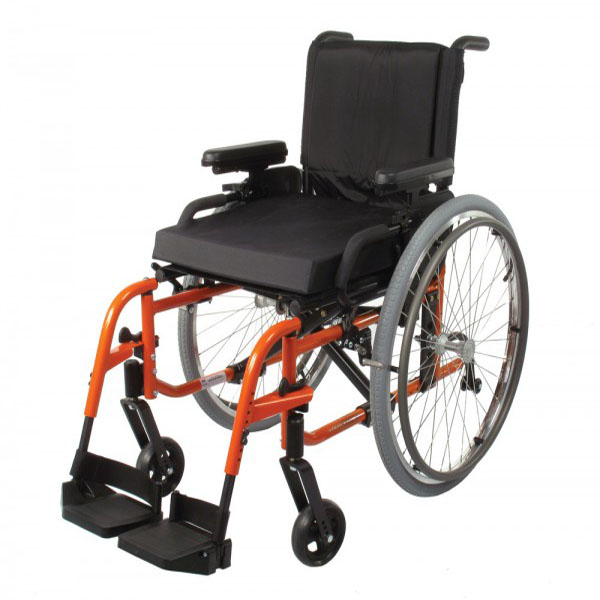 The Quickie LX weighs just 28 pounds which is the same as many ultra lightweight wheelchairs, but costs several hundred dollars less than those same chairs. The adjustability of the backrest and seat heights as well as an incredible number of options to meet your various personal needs makes the LX an ultra lightweight chair at a lightweight friendly cost.
The Quickie LX comes with a non-adjustable axle plate. If you are looking for an adjustable axle plate that will provide adjustments, center of gravity options, and allows you the user to change camber degree on the rear wheels.
Features:
Complete range of footplate, armrest and caster options.
60, 70, 70 "V", or 90 degree hangers.
Full selection of rear wheel options.
Black anodized chair parts.
Adjustable-height backrest.
Multiple color options. Continue reading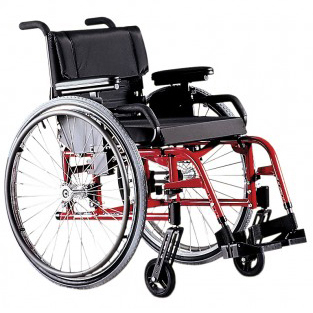 The Quickie GP Swing-Away is a solid, rigid framed wheelchair. This wheelchair offers swing-away removable footrest for easy transfers. And as if that is not enough, it also offers detachable, height armrest option. Keep reading for more about the Quickie GP Swing-Away.
Features of the Quickie GP Swing-Away:
The options of the armrests allow customization which will enable you to mount a tray and also position upper extremities.
It has a rigid frame with swing-away removable footrests.
For even more positioning abilities, the chair has articulating and elevating leg rests.
A variety of seat depths and widths is also available for maximum comfort.
For easy portability, the GP comes with quick release axles that make removal of rear wheels easy.
It also has multiple wheels and caster options.
The redesigned Pride Mobility Maxima 4-wheel motorized scooter brings outstanding performance and elegant styling together with rugged construction for a weight capacity of up to 500 pounds. Great standard features include upgraded electronics, an ultra heavy-duty drive train for more power and a redesigned, thicker seat for greater comfort with a 60″ lap belt included. The Maxima also features an easily adjustable tiller, front headlight, durable one-piece frame construction and whisper-quiet drive train.
What Makes Maxima 4-Wheel Different:
The scooter has a great look with the non-marking black tires and silver hub cabs, it also provides a very stable ride. The Maxima is made in the USA and is recommended by the VA so you know it has to be good. It also has a power seat option for an additional 5″ of seat height to reach higher cabinets and shelves. Continue reading →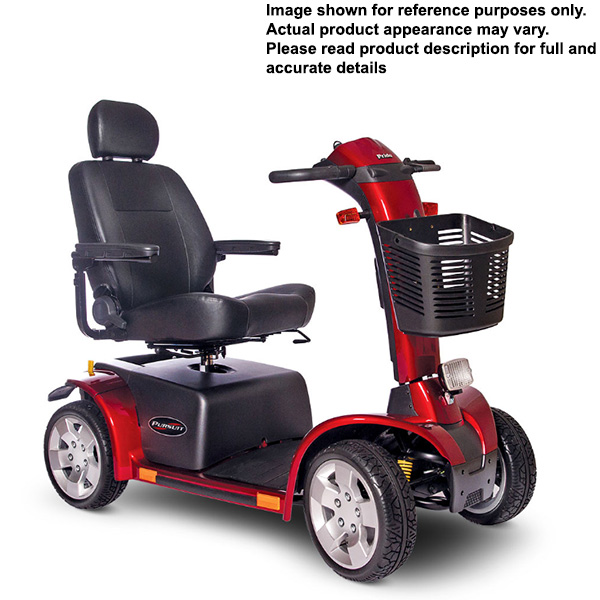 The big, heavy-duty Pursuit PMV from Pride is a great off-roader, with 13″ wheels to handle rugged terrain. It has a 7.25 MPH top speed, standard full lighting package with directional signals and non-marking low profile tires. The Delta tiller is an excellent feature for those with limited hand dexterity; operate the scooter with a single finger or thumb, while resting your arms on the tiller sides.
What Makes Pursuit PMV Different:
The Pursuit PMV offers independent front and rear dynamic suspension for smooth rides over bumpy terrain. The suspension and standard 13″ solid tires are great for outdoor use on uneven terrain. The seat can also easily recline for added comfort. Continue reading →
This motorized scooter is constructed to take a weight of 500 lbs. It offers a performance that is outstanding and its elegant style adds the icing on the fabulous features that include upgraded electronics and an ultra-heavy duty drive train for added power; you know very well that power without control is nothing, the Maxima ensure control by offering a seat with the highest level of comfort. The seat comes with a lap belt for your comfort. The features that make the Maxima 3 unique include the following.
Features of the Maxima 3 Wheel
It has a front heavy duty front basket.
The maxima has an easy to adjust tiller and an enhanced rear suspension.
A front headlight to light your way in the dark.
It also offers a one-piece, stable frame construction.
Your safety is guaranteed with the anti-tip wheels.
The Maxima's whisper quiet train gives it a stylish look.
The black tires are non-marking and it also has silver hub-cabs.
It also has a power seat option for an additional 5″ of seat height to enable you to reach higher cabinets and shelves.
It has a turning radius of 52″ and a cool speed of 5.25MPH.
A comfortable seat with a 60″ lap belt included.
Do you need a longer range for your daily activities? The Go-Go is rated to travel up to 6 miles on charge and with the optional 18AH battery pack you are guaranteed to travel up to 9.7 miles with each charge. Besides, it is easy to disassemble, has a great stability of all the four wheels on the ground. It also has a lightweight frame and is generally light enough to easily load it into a car. And that's not all: the Go-Go has lots of other incredible features, keep reading and you will find out what they are.
What makes this Different:
Choose the travel range that's best for you! The Elite Traveller is rated to travel up to 6 miles on a charge. Need a longer range for your daily activities? The optional 18AH battery pack gives users the ability to travel up to 9.7 miles with each charge. Continue reading →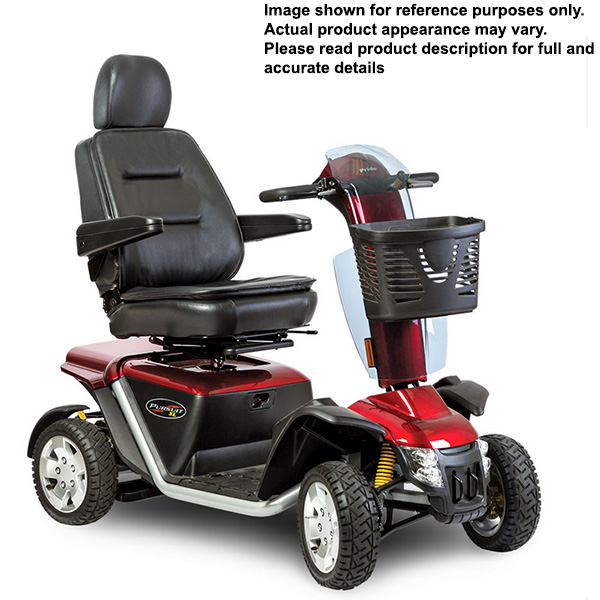 The Pursuit XL PMV combines ruggedness and comfort and that's not all, it also offers amazing safety features. It is a heavy duty scooter taking a weight capacity of 400 lb. The availability of a Delta tiller with wraparound handles ensures that the handles are easy on your hands. But that's just the tip of the iceberg, the pursuit XL has lots of other features that you need to explore I will share them with you here.
Features of the Pursuit XL PMV
It comes with a full LED lighting package complete with turn signals and a headlight for your safety.
Pneumatic tires at 13" are large enough and coupled with both rear and front suspensions; it creates a smooth ride, offers easier handling and enhances outdoor performance.
The deluxe reclining seat that has a pillow top ensures that you enjoy a comfortable ride.
It also has a headrest and sliders that make it easy for you to access the adjustable tiller.
The front basket will take care of your stuff. You do not need to worry about sharing your seat with your stuff.
It has a forward and reverse control; you are in control in this scooter.
The Go Go Elite Traveller 3- wheel scooter offers easy disassembly, a lightweight frame and a super tight 33 inch turning radius! Versatile and easy to handle, the heaviest piece weighs only 28 lbs for loading in the car. The Elite Traveller 3- wheel has straight handlebars, not the delta style tiller, and features an additional charging port located up on the tiller for easy access. The Elite Traveller features anti-tips on the back for extra security and has a maximum weight capacity of 300 lb.
What Makes This Different:
The convenience of an upgraded battery separates the Pride Go-Go-Elite Traveller from others in its class. Keep the smaller battery for short trips or expand to the 18AH when day trips and shopping expeditions are planned. Continue reading →