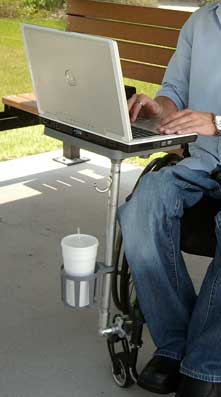 Any wheelchair user knows how difficult it can get running about daily tasks with a "lap full" of stuff that may sometimes include a cup of coffee held between your laps as you wheel and roll throughout the day. The EzEnabler has the solution. It offers you the independence and comfort you need to carry out most tasks whether at home, at the stores, the theater or even your workplace. It is simple to use and it will only take you a minute to attach and detach it from your wheelchair. This portable tray available at Sportaid has amazing features. I will share them with you next.
Features of the EzEnabler Wheelchair Portable Tray
The tray has three different tubes of 7″, 9″ and 14″ they fit into each other to enable you to customize the tray to the desired height.
The tray top measures 11.5″ L x 9.75″W reasonable space to carry out any task in comfort.
The cup holder is 4″ W and 4″H it can hold almost every cup size or even a water bottle.
Pros and Cons of EzEnabler Wheelchair Portable Tray