The Quickie shark hand cycle is built for champions. Some of the features that make it an ideal choice include a vertical crank adjustment, X link frame separation mechanism and an ergonomic seat design you will be transported to a new level of speed and performance. So read on and find out why the quickie shark handcycle is a gem.
Multiple Frame Colors
Do you want to stand out from the crowd in a colorful stylish handcycle? This is what you are definitely looking for; you have 26 different color frames to choose from. The varieties of colors ensure that there is a color to suit everyone's preference.
Ergonomic Seat and Back
The backrest can be set to any angle between 30° and 90°. The adjustable seat heights give you optimal seat positioning. In addition, your weight is well-taken care and dispersed evenly by the multi-adjustable ergonomic seat and backrest. Continue reading →
Exercise is important for you even if you are an everyday wheelchair user. It not only helps you to stay in shape but also ensures that your muscles continue being active and do not deteriorate. Wheelchair exercising is beneficial, however; you should get advice from your therapist regarding the same since the exercises recommended may vary according to the individual's abilities and the level and nature of injury or illness. The benefits include the following.
Emotional Benefit
Through exercising by participating in sport your self-esteem will be raised. Having to know what you are capable of doing despite your disability increases your self-esteem. Besides, your stress levels will be reduced when you exercise. Also exercising helps promote a positive attitude which many people struggle to have; as a result, your mood will be raised. The feel-good high will help ease anxiety and depression. This is true for both wheelchair users and non-wheelchair users. Continue reading →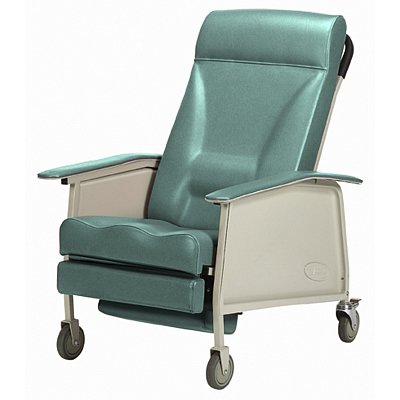 The new adult Invacare 3 position recliner deluxe is built with special features for durability and will offer you exceptional comfort. The recliner can be adjusted to three sitting positions: sitting, elevated leg or full recline hence it offers maximum flexibility for you. Keep reading and you will find out the many features of the Invacare 3 position recliner deluxe that you or your loved ones will enjoy each day should you settle for it.
Special Padding Technology
The choice of the padding ensures your comfort while at the same time offers support for the seating surface. The specially formed back and seat play a vital role in your comfort the type of padding chosen for the two must be carefully done. The Invacare 3 position recliner deluxe is built with these in mind and therefore has special padding.
Lumbar Support
The back of the chair is made to give lumbar support for optimum comfort. Support for your back is essential for good posture. You do not need to worry about discomfort and pain resulting from lack of adequate support for your back during the long hours you have to spend sitting in the wheelchair. Continue reading →
People have to use wheelchairs for different reasons. Being in a wheelchair may not be any one's choice, it is however not a tragedy it is instead a means of freedom that allows to move independently. Here are some tips to help you know what is appropriate when relating to someone who uses a wheelchair.
Focus on the Person First
When you meet a person in a wheelchair your focus should be on the person first and not on the disability. An individual is a person just like any other regardless of his disability. You should, therefore, look at him and put your focus on him first. Everything else can come later.
Do not assume they Need Your Help
A wheelchair user may need a helping hand here and there. It is good to give a helping hand to a brother. But do not forget to ask. Do not, however, assume that he needs your help even if to your eyes they appear to be struggling. In addition, if your offer to help is accepted ask for instructions and follow them. Also if your offer is declined accept not for an answer and don't press on. Most wheelchair users have their own ways of carrying out daily tasks. Continue reading →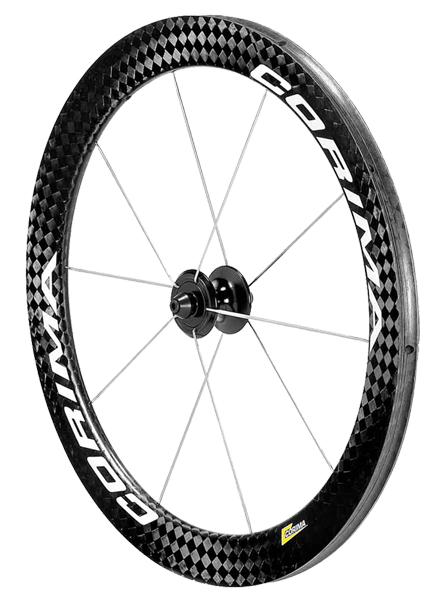 The choice of your wheelchair wheels will depend on the use of your wheelchair. Whether outdoor or indoor, the terrain and activities you engage in will also determine the type of wheels you choose for your chair.
The smoothness of the ride combined with speed maneuverability and control are all related to the wheelchair tires, casters and wheels. Choosing these components is not an easy task it is advisable to contact an expert such as a therapist or health care professional to help you choose a combination that will meet your lifestyle, maintenance, and affordability needs.
Wheelchair Wheels and Components
Manual wheelchairs have two sets of wheels a pair in front called a caster and a pair at the back called the drive wheels. Power wheelchairs, on the other hand, may have up to three wheels; one caster and two drive wheels. One of the factors you should consider when selecting wheelchair wheels is how heavy they are and the environment which you will be using them. Spoke wheels are usually lighter than mag wheels but they require more maintenance. They are less suitable for moist surfaces. Mag wheels are mostly maintenance free but are affected by extreme temperatures.
Which Tires?
Tires can either be pneumatic (air-filled), solid and flat free foam, urethane or rubber filled. Depending on the terrain you wish to use them they may be knobbly or smooth. As a rule of thumb, you should know that tires affect how easily a wheelchair specific rolls over surfaces. The harder the tire, the easier it will be to propel your wheelchair and the softer the tire the harder it becomes to propel your wheelchair. Here are your choices: Continue reading →
The Quickie Breezy Ultra 4 Hemi wheelchair is a perfect choice for you. It is a standard wheelchair that combines strength, portability and prides itself on the lightweight wheelchairs in the world of wheelchairs. But that is not all; it comes with amazing features that I will take you through each one of them in this post.
Quick Release Wheels for Easy Transport
Are you always on the move and feel like a self-made nomad? You do not need to worry about transporting your wheelchair every time you have to load it in your car. The wheels are made to quickly release and enable your chair to be easily folded and hence easy to carry.
Adjustable Front Casters
The adjustability is essential for meeting individual positioning needs. This wheelchair is built for your comfort. Besides improving roll ability they help they help you to swing in all the directions in your wheelchair helping you to manoeuvre in your chair while moving in and out. Continue reading →
Most wheelchair users spend the better part of the day in their wheelchair seats. This is a considerably long time to spend seated. That is the reason why you should keep a good posture every time. A good posture will enhance your safety and decrease the chances of you getting further injuries from complications arising from your wrong seating postures. The following guidelines will help you improve your seating posture.
Relaxed Feet Position
Achieving this can be done naturally if you know how to position your feet in the preferred position. And how do you do that? You start by tilting and reclining the wheelchair slightly. For effectiveness, remove the leg rests and place a cushion or leg rest under your feet. And that is not all: The harm strings should be relaxed.
Seat Depth
You should ensure that you sit far back into the chair as much as possible. And once you have a handle on that, then lean forward and check the position from above. While you are at it, check the pressure distribution of the buttocks with your hand by comparing backrest with seating. For the best results do not let the upper side of your calf touch the seat cushion. Leave at least a 2-3cm space. Continue reading →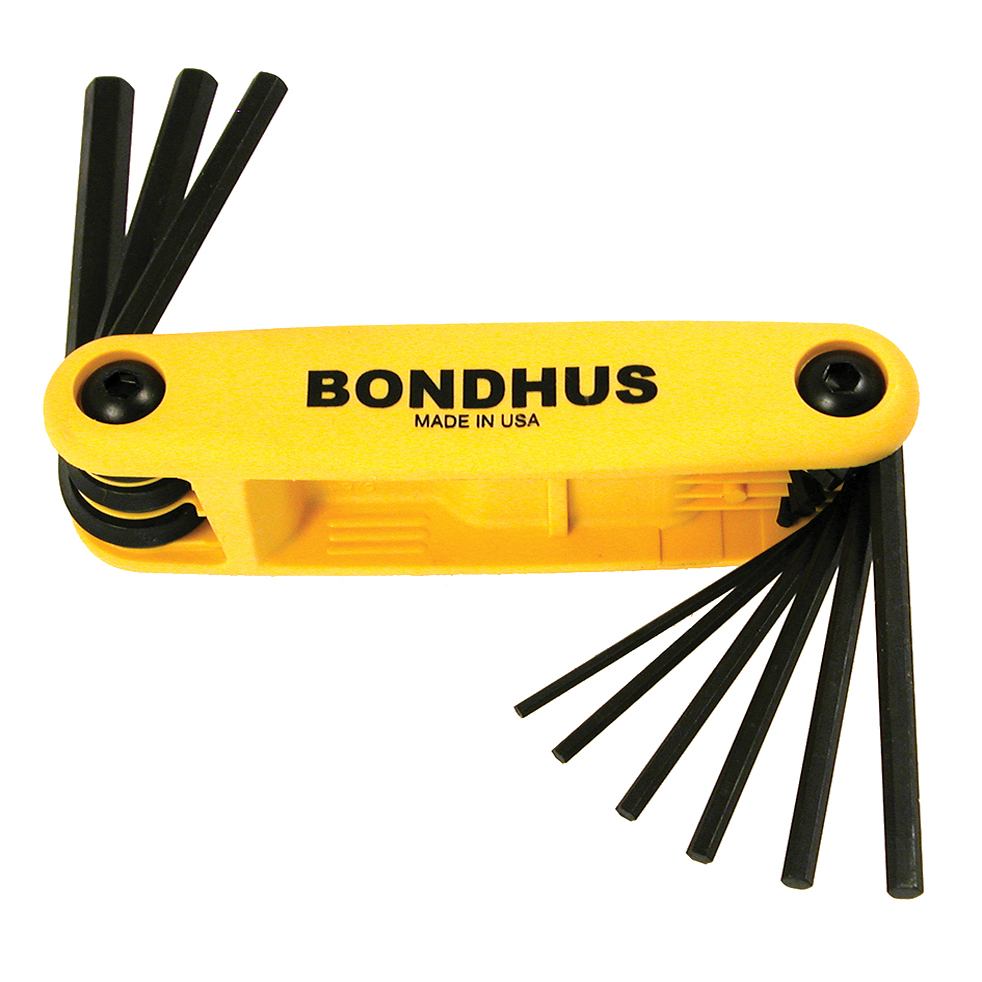 Wheelchair Tire Accessories: – From Wheelchair Tire Covers to The Pedros Wheelchair Tire Lever, Sportaid offers a huge selection of tire accessories to choose from. You can easily choose and customize them to suit your needs with the help of our deft guidance.
Wheelchair Bags and Wheelchair Pouches: – You will never have too many bags, pouches and straps, but you will find all you need when you shop at Sportaid.com. There is always something new to choose from. Check out our huge selection of new designs and colors. Our unique collection lets you choose from the widest array of international brands.
Wheelchair Brakes: – Sportaid offers Wheelchair Locks, easy to use Push Brakes, and Scissor Brakes with Clamps or Clamps & Long Arms to maximize your comfort level. These inexpensive brakes maintain stability and ensure your safety while using a wheelchair.
Wheelchair Carriers: – Sportaid offers a vast selection of carriers that you can use to carry the additional stuff while going out for shopping. The light weight and durable wheelchair carriers protect your chair and wheelchair components while traveling. The wheelchair carriers can be installed internally or externally to gain the maximum comfort level. Continue reading →
A scooter that has splendid outdoor performance and oozes with luxury is the description of the Pride Pursuit 4 Wheel PMV. It is a powerful scooter that will handle the rugged outdoor terrain and while at it remain stylish. Your outdoor experience will be elevated to another level with the Pride Pursuit which is a great off-roader.
Large Solid Tires
Tires make or break any machine that moves. The Pursuit PMV 4 Wheel has 13" low solid tires makes both outdoor rides and rides on even terrain easy. The outstanding outdoor performance relies on the specially designed tires adapted for rugged rides and that is not all, the tires are the non-marking low profile.
Standard Full Lighting
Lighting is a vital feature of a wheelchair. It helps increase visibility at night and ensures your safety. Apart from the obvious lighting your ways as you ride in dark areas and at night, it will ensure you are visible to other road users. Lights also give your wheelchair a bright unique look. The Pride Pursuit has the standard full lights complete with directional signals. Continue reading →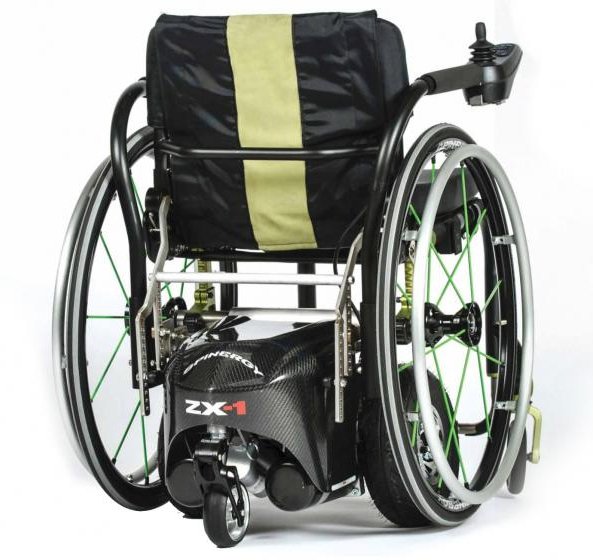 Propelling a manual wheelchair is not an easy task. It requires a lot of effort and strength and when transfers and other movements need to be done you come to realize that you need a helper; ZX Power Add-on Spinergy is the helper you should not miss. It will help you preserve upper body strength and reduces the effects of pushing your manual wheelchair. Navigating surfaces like carpet, grass and even hills will be an effortless venture.
Easy Attach and Detach
Spanners, bolts, tightening and fixing are not everyone's delight. If you are in this category then you should not worry again about all these in case you want to convert your manual wheelchair to a power assist one. The ZX power add-on does not require any tool to attach and detach it from your chair. You simply need to back it on the device attach to it and boom you are there. You will only need the joystick to help you operate the device.
24 Volt Gear Driven Electric Motors for easy manoeuvre
If you purchase the ZX power add-on you enjoy the unique feature of a 24-volt gear-driven electric motor that is only commonly found on most large power chairs. It is ideal for different types of terrains including gravel, thick grass, rocky among others. This ability makes it a unique power assist device compared to the others in the market; it is strong, light at only 82lbs and perfectly fits under your manual wheelchair. It is convenient for air travel and at home even with space that is narrow. Continue reading →