Who needs to wait in lines when you can get deals like this?
Sportaid's super low prices on top quality products are even lower from November 29 to December 9. Find another 15% savings!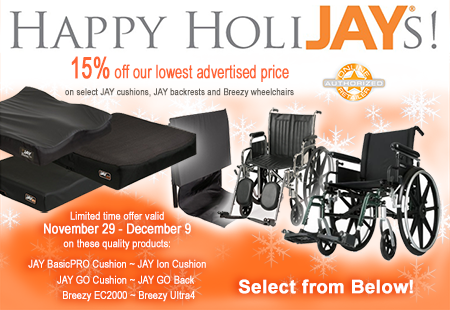 ?- JAY BasicPRO Cushion
?- JAY Ion Cushion
?- JAY GO Cushion
?- JAY GO Back
?- Breezy EC2000 (phone order only)
?- Breezy Ultra4 (phone order only)
Just select from any of the JAY products below with the "Sale" tag and your discount will AUTOMATICALLY be given when you check out! It's that easy to save BIG with Sportaid!
At Sportaid, there are great deal of Independent Living Aids available, but I have come across several interesting and creative methods of producing wheelchair accessible kitchens lately.
I love the openness and the perfect height of the counter tops and sink
Easily managed storage
Handy dishwasher placement

I would love hear and see more ideas about the perfect wheelchair accessible kitchen. Comments are open.
Free Hollister Advance Plus Pocket Catheter

If you act now, you will have the chance to sample the Advance Plus Pocket Catheter at no charge! Simply add your Advance Plus Pocket Catheter in the size you need by selecting the "choose size" option and add one to your cart.
The Hollister Advance Plus Pocket Catheter is a closed system intermittent catheter with an integrated gel reservoir that eliminates the need for additional lubrication. The Hollister Advance Plus Pocket Catheter is designed to add more convenience to your daily routine with its small packaging. Bacteria pushed into the urethra can lead to urinary tract infections (UTIs), but the single use sterile Advance Plus Pocket Catheter by Hollister employs an introducer tip to reduce the risk of UTIs.
When you check out you will get one for free! We will even pay the shipping! This offer is good for only one Advance Plus Pocket Catheter per customer. Standard free shipping within the continental United States only.
Click here to get your Hollister Advance Plus Pocket Catheter Free Sample!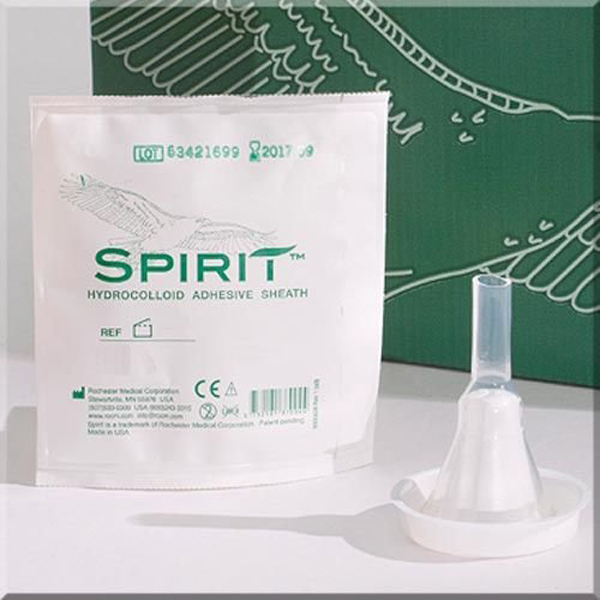 Combining the adhesive and moisture-wicking properties of hydrocolloid with the breathability and flexibility of silicone has made the Rochester Medical Spirit Male External Catheter an innovative leader. The Rochester Medical Spirit Male External Style 3 Catheter provides 70% more adhesive area than we are used to seeing with self-adhering designs. Combined with patented forward placement of the adhesive, this design helps prevent accidental detachment of the Rochester Medical Spirit Male External Catheter. The Rochester Medical Spirit Male External Style 2 Catheter combines forward adhesive technology with a 1.5″ sheath to provide the maximum adhesive area on a short sheath to give men with a catheter for their specific needs. Traditional male external catheters have set the standards for length and placement, and the?Rochester Medical Spirit Male External Style 1 Catheter has maintained so much with built-in adhesive and a soft, breathable sheath conforms to the skin. All these great styles are new additions to Sportaid's extensive inventory.
The revolutionary SmartDrive Power Assist by Max Mobility allows you to navigate place that have always been out of reach. Adding the SmartDrive to your wheelchair can truly be life altering when choose to test your limits by challenging difficult grass, steep hills, and rough carpet that used to stop you in your tracks. The SmartDrive Power Assist uses advanced battery technology that allows you to plug it in for one charge, then get out there and enjoy the ride for several days without recharging. Fully intuitive controls make the SmartDrive super easy to use, so there is no learning curve.
It doesn't end with practicality either; there is still fun to be had. Wheelies and drop offs seem to come naturally once the SmartDrive is freely rotating about the axle and floating across the ground. Where you want to go, the SmartDrive wants to take you, and because it is from Max Mobility, expect the best!
| | |
| --- | --- |
| | Vehicle Hand Controls Sale!Get 10% OFF Vehicle Hand Controls! Simply add your Vehicle Hand Controls to your cart and the discount will automatically be applied to the total upon checkout! |
Disability Vehicle Hand Controls
Sportaid offers a comprehensive selection of vehicle hand controls to turn any car into a disabled friendly one. Our premium collection of hand controls gives you the freedom to drive your own car with much appreciated independence. Choose the right Hand Controls for your vehicle and enjoy your new independent lifestyle.
Our affordable selection of portable Vehicle Hand Controls from reputed brands includes Colours AZ-1 Portable Hand Controls, Sure-Grip Spinner Knobs, Park Brake Extension, Z4 Portable Hand Controls, and Palm Grip Spinner Knobs.
To make your ride smooth and safe, browse through our high quality collection of Disability Vehicle Hand Controls below or feel free to call 1-800-743-7203 for help. You'll be glad you did! Select from the top manufacturers and save big with Sportaid.com's everyday low prices.
The Invacare Roze Premier Series Stand-Up Lift at Sportaid has been specifically designed to relieve the burden of lifting from the operator while simultaneously promoting independence for the patient. For patients who need assistance in standing, let your lift do the lifting. The Invacare Roze Premier Series Stand-Up Lift's premium features deliver ease of use, maneuverability and versatility. Ideal for use with weight-bearing patients, as well as those needing rehabilitation support.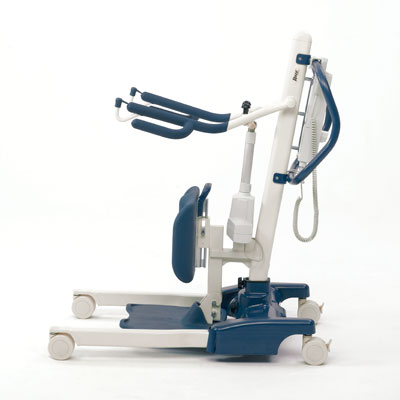 Get your Invacare Jasmine Full Body Lift from Sportaid today and experience optimum functionality and revolutionary features that facilitate safer patient handling within a 500 lb. weight capacity. Maximize the comfort of everyday transfers for patient while caregivers take advantage of safer operation.
The stable spring-loaded hanger bar produces an audible click when the sling is engaged. This assures the caregiver that the sling is properly attached. That means less stress for the caregiver, a stable transfer for the patient and less likelihood of injury for both. Optimized maneuverability is key for a comfortable transfer. Jasmine lifts feature a battery-powered boom and wideopening base, so caregivers can easily walk behind them and wheelchairs can be accommodated up front. The push handle accommodates any caregiver, and with a lighter-weight aluminum and steel construction, control in movement is straightforward and trouble-free.
Your manual wheelchair can transform into a super cool powered chair using the revolutionary ZX-1 power add-on unit. Even if you are a quadraplegic can push a manual chair on fairly level ground with no trouble, the Spinergy ZX-1 can provide powered mobility for complete independence in more varied environments. https://www.youtube.com/watch?v=c_XIBng1EQI