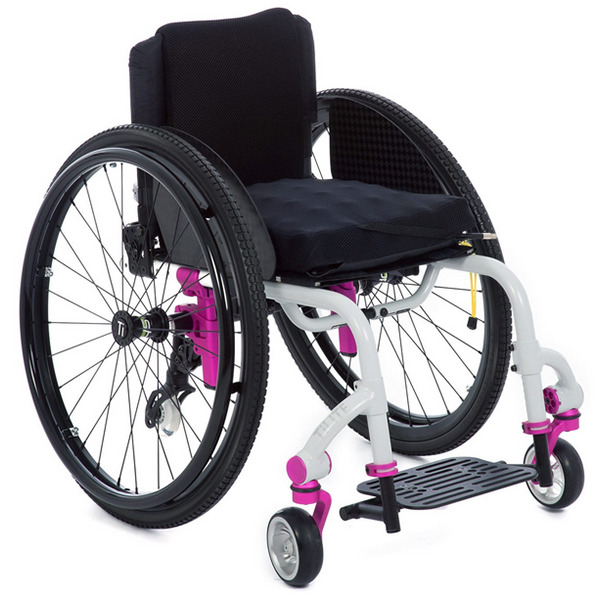 If you're a young adult who has to depend on a wheelchair for mobility then the TiLite Twist Grow-able Youth wheelchair is the wheelchair you are looking for. It has been designed for the active youth and has excellent features that make it a durable, sturdy and easy to fit chair that any youth will not regret buying.
The chair offers the following amazing features you should not miss out on.
Speed Loader Adjustable Front Caster Housing
This is an essential component of the wheelchair. It allows for quick and precise increment of fork angles of up to 1″. It ensures accuracy and will give you the option to make slight adjustments according to your preferences so that your comfort is not compromised.
Easy Folding and Unfolding of Backrest
The wheelchair has a Ti-shaft back release bar that enhances flexibility and allows for the folding and unfolding of the back rest from any angle. This makes transporting the chair easy.
Flip-back Foot Rest
The foot-rest is made to provide comfort for your feet when riding the wheelchair. The flip back option is ideal for you during transfers. The risk of accidents when transferring to another chair is highly minimized. Continue reading →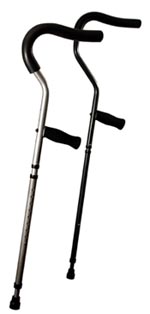 Walking sticks are what carry your weight and help you move around, but their handles are what comes into contact with the palms of your hands and are where all the friction if any and all the sweaty, slippery reality of using the walking stick is found. Walking sticks are basically made of wood or aluminum. the following guidelines will help you make an appropriate choice of a walking stick handle that is best suited for you.
The Swan-Shaped Handle
As the name suggests, this type of walking stick handle is curved in the shape of a swan. The shape ensures that all the weight is kept on the shaft of the walking stick. It increases stability and helps ensure the user maintains a good posture since the stick will be kept straight rather than at an angle.
Straight T Shaped Handle
This is the most known walking stick handle shape. With this in your hand, you have the control. You can easily get a steady grip by wrapping your thumb around the front side of the handle and resting your weight on the top of the walking stick for comfort. It is an ideal choice for you if you are not looking for heavy weight support but rather lightweight support.
Derby Handles
This a more curved version of the T shaped walking stick handle. It gives the same option of gripping and support, the only difference is that it can be hung over the arm when not in use. This allows you to free your hands and dig both hands in other tasks until when you need to move again. A hook in your office or at home will be put to good use whenever you do not need this walking.
Ergonomic and an Atomic Grip Handles
If every step with your walking stick is a painful or deal then you need this kind of walking stick handle. Its shape follows the natural contour of the palm of your hand. It spreads your weight evenly across your hand's pressure points. Painful wrists, painful stiff arthritic hands should not bother you anymore.
Conclusion
Having to rely on disability aids and products should not be at the expense of your comfort. When making walking stick handle choices consider how often you use them and how comfortable you will be walking or working with them.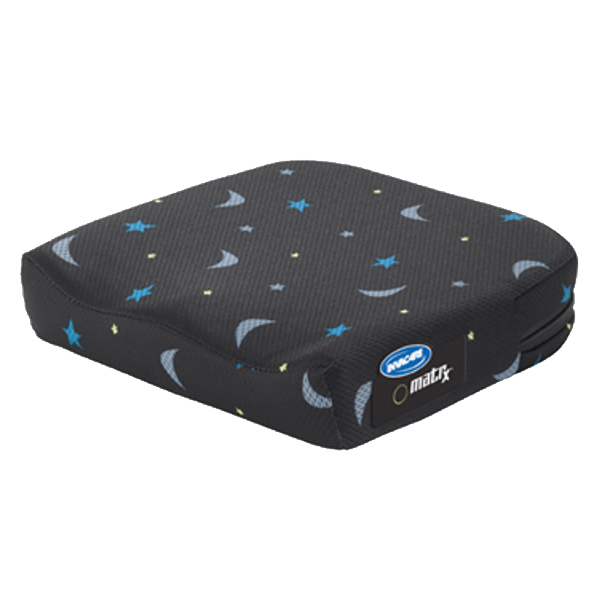 Cleaning and examining your wheelchair cushion is a straightforward process which when performed every week, helps to keep your seat cushion fresh and clean and help to improve its useful lifespan.
Prior to taking out your cushion, make sure you know its precise position and location in the chair to ensure that it could be put back in its correct position. Should you have any concerns for correct cushion placement, consult your therapist.
Wheelchair Cushion Features
The majority of cushions include a cover with either a zipper or a Velcro closure. After the cover is taken off, you should be able to clean it in a washer. Be sure to use a warm/cold and delicate cycle with gentle soap and no bleach. The covers can be air tumble dried to prevent any harm from the heat. Many industrial dryers become too hot for cushion cover material and can result in damage.
Fluid-filled and gel cushions: Wash with soap and water. Rinse off. Towel dry.
Stretchy Matrix or Honeycomb Cushions: These are made to be easily cleaned. They come with a washing bag in which they are machine laundered followed by a tumble dry.
Open Cell Foam Cushions: Any kind of liquid can damage these. A number of covers safeguard the foam from dampers, however, if your foam cushion becomes wet, try out the following Continue reading →
The Quickie Ultra Weight Rigid is a strong durable chair with a rigid aluminum frame. It is designed for performance and durability. If you love comfort well who doesn't? Then this is the perfect wheelchair for you. It is easy to adjust and modify for precision. It is also easy to transport, its open L. frame guarantees this and therefore ideal for you if you are always on the move.
The foot rests have a nice design that keeps your feet comfortable and stable in it. The excellent ergo brakes ensure your safety as you ride and roll. It is easy to use and would work great for any wheelchair user more so for a new user. You wouldn't regret having the GT as your first wheelchair.
The 26″ spinergy combined with complete suspension offers a compact yet effective wheelchair. Besides, the chair has adjustable features, allowing you to customize it according to your size and comfort.
Features of the Quickie Ultra Weight Rigid GT
Consists of both front and rear suspension options
Seat heights of 12″-20″
Adjustable axle placements
Rigid aluminum frame for sturdiness and durability
Folding back rest, it enhances adjustability and comfort
Weighs 20.5 lbs, among one of the lightest wheelchairs
Rear wheel options 22″, 24″, and 26″
Pros and Cons of Quickie Ultra Weight Rigid GT Wheelchair Continue reading →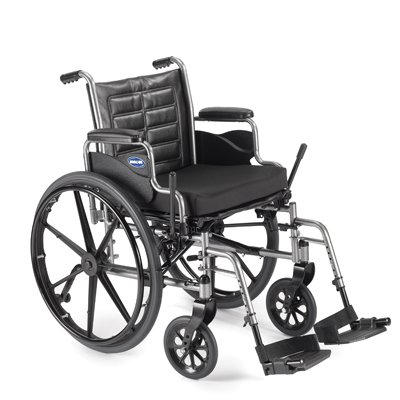 The Invacare Tracer EX2 Deluxe is built with a durable frame that makes it a high quality standard chair. It presents unique features not found on any other wheelchair in the market including a hemi seat-to-floor height an ideal feature for those users who prefer propelling with their feet. It also offers a full range of accessories that will enhance your comfort. It basically sets the standard of manual wheelchairs.
The hand rims have 8″ solid rubber casters and the arm pads are padded for optimum comfort. It also has wheel locks which ensure you do not tip over during transfers. the upholstery is easy to clean black vinyl; these combined with the option to adjust the arm rest lengths to either desk length or full length to suit both home and office use make it a standard wheelchair.
The Invacare Tracer has a weight capacity of 250 lbs. You can comfortably ride this chair confident that your weight is perfectly supported. It can be easily folded making it easy to transport.
The Invacare Tracer EX2 Deluxe features include the following;
14-guage cross braces for more strength and durability
Dual-embossed upholstery which does not easily stretch and tear
13″ width foldable for travel and easy storage
Seat can be adjusted to 17.5″ and has a hemi option
Dual axles and adjustable, removable arm rests and leg rests
Weight capacity of 250 lbs
The Pros and cons of the Invacare Tracer EX2 Deluxe Continue reading →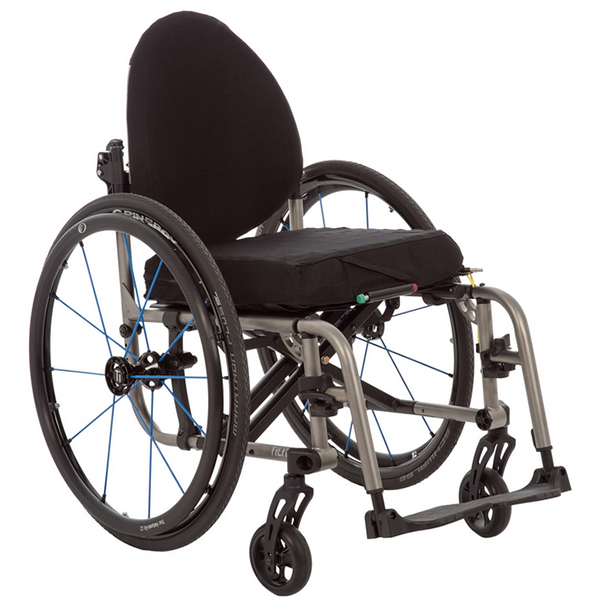 Have you shopped around for a wheelchair found the perfect wheelchair with amazing features but with only one fault – it has a dull color or does not look pretty enough? You can easily change the look of your chair by decorating it and making it an eye catcher by adding the following simple decorations.
The Color of the Cushions
Choosing colorful fun fabrics for your cushion covers will add color to your wheelchair and brightens your day. A range of fabrics is available in vast colors to chose from. You will be happy riding a wheelchair that is 'wearing' your favorite colors all day. It is easy to transform your chair from a gloomy dark look to a bright shining chair.
Stickers and Patches
Get your favorite rock band, sports team or even word stickers on your wheelchair. It will make you enjoy your ride as you look cool. The stickers are readily available in most art and craft stores and stationery stores. Continue reading →
Wheelchair users often find that it's difficult to lose weight due to fewer calories expended through physical activity. According to the Centers for Disease Control and Prevention, 36% of adults with disabilities are overweight, while 22% of children with disabilities are overweight. Physical limitations, pain, and lack of energy are some of the challenges that wheelchair users face which result in weight gain. This is a problem especially for men who would like to build muscle and develop upper body strength for improved strength and mobility. The good news is that there are a few simple things that you can do to help you lose weight even if you're in a wheelchair full time. Here's a guide to weight loss for wheelchair users.
Increase your fruit and vegetable intake
Weight loss products can control your weight, but in addition to supplements, you should also increase your fruit and vegetable intake to get rid of fat and be at a healthy weight. As men tend to gain weight around the belly, doing certain changes to improve your diet can help to avoid having a big belly which can be a source of discomfort when you're in a wheelchair. Some of the most weight-loss friendly foods that you need to consume include leafy greens such as kale and spinach, cruciferous veggies like broccoli and cauliflower, potatoes, beans, and legumes. Fruits such as avocados and grapefruits can also contribute to weight loss and may even help to prevent chronic diseases. Continue reading →
Safety should come first for any wheelchair user. It does not matter if you are a pro user or are still a learner, in both instances safety still comes first. Your safety will depend on how you handle your chair and above all how you maintain it.
Slipping
Most of wheelchair accidents are caused by slipping. To avoid slipping ensure that you always inspect your tires. Treat the tires of your wheelchair the same way you treat your car tires. Check your tires treat and replace if they are worn out. Monitor the chair levels and have them filled to the correct amount.
Learn the tricks
Using a wheelchair like a hobby, it gets better with time. A new user is more likely to get an accident as compared to an experienced rider. To stay safe in your chair make sure your caster wheels are facing straight forward when transferring in to your wheelchair.
Cuts and bruises
Wheelchair accidents are not limited to falls from tipping over only. You may sustain cuts or bruises from the edges of your hand rims while propelling the wheelchair. Inspect the edges of the rims for any rough, jagged edges. Protect your hands from the risk of cuts by wearing a protective glove. Continue reading →
It is a fact that wheelchair users find themselves in this situation against their wish. The thought of having to depend on a wheelchair to move may be freaking you out. Depending on assistance to move from one destination to another may be freaking you out even more. Designers of wheelchairs have incorporated accessories and products that will enhance your independence and convenience while using your chair. After finally deciding on the wheelchair to buy, consider buying the following accessories they will make your world a lot more the same as before.
Lifting Devices
Getting up and sitting down is a natural thing for any individual, but not for most wheelchair users. The availability of lifting devices allows you to lift yourself without any assistance. An assist rail is one of the lifting devices that are helpful. It is usually placed on a couch; chair or recliners to enable you to sit and stand easily. There are several types available and all are designed to make it more convenient and easy for you.
Ramp
Most doorways will give you a hard time when riding your wheelchair. Investing in a ramp will guarantee your independence at climbing and descending steps at doorways. You will not have to worry about relying on assistance from a caretaker or even a kind stranger. Continue reading →