Your search for the Two in One ideal wheelchair stops with the Tracer IV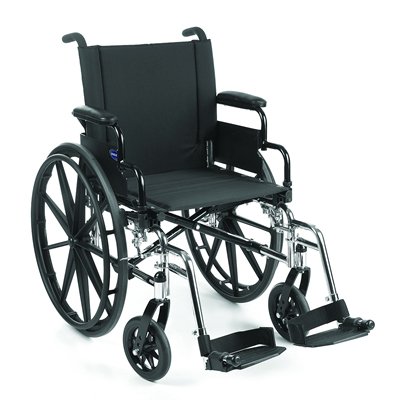 Is this the Right Wheelchair for you?
The Invacare Tracer IV Heavy Duty Chair with a reinforced heavy duty carbon steel frame, urethane rear tires and low maintenance precision bearings is built and designed for strength and durability, if you are an active person then your search for the ideal wheelchair stops with the Tracer IV.
Reinforced Frame
The combination of dual crossbraces, caster journals and gusseted sides incorporate to deliver a reinforced frame that withstands any amount of strain giving it the strength of a heavy duty wheelchair.
Heavy Duty inner linings for seat and back
The tough linings ensure the covers do not stretch and easily tear. It guarantees durability for you while ensuring safety.
Dual-Sealed Precision Bearings
These are ideal for efficient energy transfer. In addition they increase performance and help the rider manoeuvre through different conditions comfortably.
Urethane Rear Tires
The Tracer IV is a heavy duty wheelchair, the rear tires mounted on No flex wheels enhance superior performance making it not just a high performer but an ultimate choice for a wheelchair that can endure tough terrains.
Adjustable Arm Rest
The provision to adjust arm rests to desired lengths makes working with this wheelchair easy. You do not need to change seats to reach your desk while working but simply make the necessary adjustments and you are good to go!
Dual Axle Positions
In addition, the dual axle positions make it possible to change the seat- to- floor heights to suit your comfort. This makes the Tracer IV a good choice for any one.
Finally, its many options in regard to variations in the different parts are summarized by the amazing feature that allows you to use components of 9000 and Tracer series interchangeably, you will agree with me that this two in one wheelchair is the right wheelchair for you.