TiLite Twist Grow-able Youth Wheelchair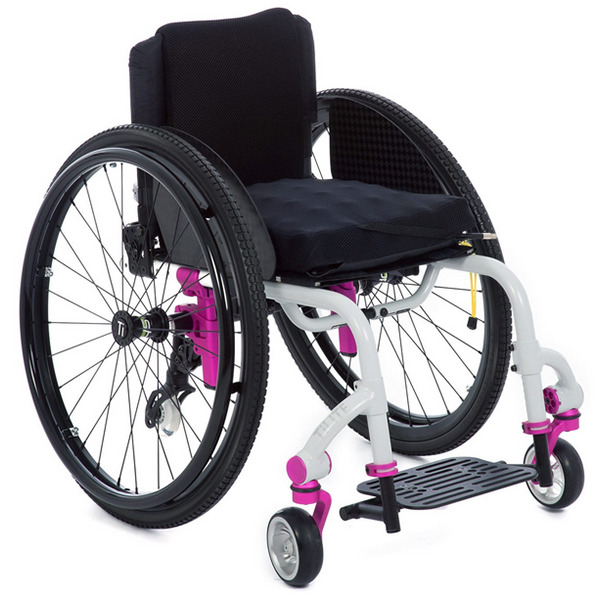 If you're a young adult who has to depend on a wheelchair for mobility then the TiLite Twist Grow-able Youth wheelchair is the wheelchair you are looking for. It has been designed for the active youth and has excellent features that make it a durable, sturdy and easy to fit chair that any youth will not regret buying.
The chair offers the following amazing features you should not miss out on.
Speed Loader Adjustable Front Caster Housing
This is an essential component of the wheelchair. It allows for quick and precise increment of fork angles of up to 1″. It ensures accuracy and will give you the option to make slight adjustments according to your preferences so that your comfort is not compromised.
Easy Folding and Unfolding of Backrest
The wheelchair has a Ti-shaft back release bar that enhances flexibility and allows for the folding and unfolding of the back rest from any angle. This makes transporting the chair easy.
Flip-back Foot Rest
The foot-rest is made to provide comfort for your feet when riding the wheelchair. The flip back option is ideal for you during transfers. The risk of accidents when transferring to another chair is highly minimized.
The Tru-Fit System
This is the 'heart' of the TiLite Twist Growable Youth Wheelchair. It limits the number of holes in the frame ensuring the chair does not break down easily due to loosening of parts. It also makes it easy to set up the wheelchair. In addition, the caster arm on twist has a built in adjustment that will have you change the height of the seat without struggling to change the casters of forks.
Compact Wheel Locks
For an easy and smooth ride even with the smallest of hands, the TiLite is designed with compact wheel locks. The locks ensure there are no slips and lost grips.
Center Mount Anti-Tip
This feature is for your ultimate safety. The center mount anti-tip with a single swivel caster allows for the perfect positioning of the rear wheels providing maximum safety.
Frame Design
The TiLite Twist Grow-able Youth Wheelchair has a sturdy aluminum frame that is designed to make assembling of seats easier compared to other wheelchairs that use tubes with larger diameters.
Conclusion
The TiLite Twist Grow-able Youth Wheelchair is a youth wheelchair created with the modern youth in mind. It is stable and durable; thanks to the Tru-fit system that has been incorporated in its design. Make your mobility world fun. The TiLite is the ultimate choice. Price is not the only thing that matters when it comes to buying your new TiLite Twist Growable Youth Wheelchair, great customer service at sportaid is priceless!