Pride Pursuit PMV, 4 Wheeled Scooter – A Review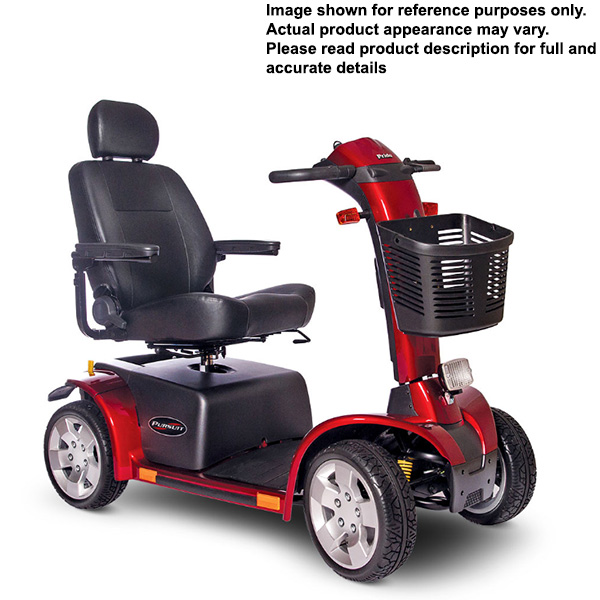 The big, heavy-duty Pursuit PMV from Pride is a great off-roader, with 13″ wheels to handle rugged terrain. It has a 7.25 MPH top speed, standard full lighting package with directional signals and non-marking low profile tires. The Delta tiller is an excellent feature for those with limited hand dexterity; operate the scooter with a single finger or thumb, while resting your arms on the tiller sides.
What Makes Pursuit PMV Different:
The Pursuit PMV offers independent front and rear dynamic suspension for smooth rides over bumpy terrain. The suspension and standard 13″ solid tires are great for outdoor use on uneven terrain. The seat can also easily recline for added comfort.
Why We Like It:
We like the fact that although this is a large scooter, it can be disassembled easily. It has great standard features and is durable and reliable. The charging port is located on the tiller, making it a breeze to access.
What You Need to Know When Ordering:
The Pursuit PMV from Pride is a full-sized scooter, not meant for indoor use. It handles great outdoors but will only travel up to 14 miles between charges. It is also too big to fit on a vehicle lift and even though it can be disassembled, the heaviest piece weighs 95 pounds.
Features:
Delta tiller with wraparound handles.
Front and rear suspension.
Full lighting package includes turn signals and headlight.
Large 13″ low profile solid tires.
Pros and Cons:
Pros:
This scooter is stylish and the seat is comfortable. With the upgraded 70 amp batteries, you can travel over 15 miles and not see the battery meter indicate a ½ charge state.
The scooter has sufficient power to move a large person around town.
The turning radius is sufficient enough to operate inside major grocery/department stores with ease.
Strong, fast, comfortable with advanced features.
It combines comfort, speed, lights, size.
Possesses plenty of room to mount and dismount. Very sturdy built. Like low profile solid tires.
Smooth ride with a comfortable seat. Does have some get up and go so hold on when you turn up the speed dial. Also you will like the automatic braking when you release the throttle.
Easy seat access. You will have the ability to access seat from your strong side.
The swivel chair and stand-up arms are perfect.
The large tires allow you to access to outdoors at home and at camp.
This product is a "small piece of heaven" and freedom for you.
It is Easy to operate with just one hand and also easy to get on and off.
It is sturdy and well made; besides it gives very comfortable ride.
It's heavy duty versus lightweight machine.
It is comfortable, stable, fast, and easy on and off.
Cons:
The scooter should be offered with foam filled flat free tires for softer outdoor ride.
You cannot get to a faster speed without tipping it over.
The steering is extremely light and requires constant correction on bumpy sidewalks.
Price is not the only thing that matters when it comes to buying Pride Pursuit PMV, 4 Wheeled Scooters, live customer service is priceless!