Play and Win with Colours Xtreme – ProTennis Wheelchair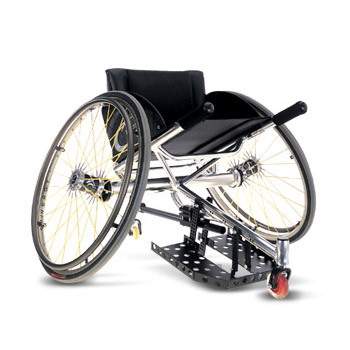 The Colours Xtreme is that amazing wheelchair that unifies your body with the wheelchair giving you every support you need to give the best performance on the court. To excel in any sport you need a wheelchair that is highly responsive the features of Colours Xtreme Pro-Tennis give it a winning edge in the sporting arena. If you are a sportsman you will agree with me that you will need to rely on the rigid body, less flex and agile movements to up your game the colours Xtreme-Pro Tennis gives you all that.
Features of the Colours Xtreme-Pro Tennis
Front and rear seat height adjustment, adjustability in your center of gravity or being able to fine-tune your wheelchair, this is a three-wheeler that will perfectly fit your bill.
To complete the concept of being in unison with your wheelchair, the Xtreme through its rear tube offers you full adjustability.
The vertical and horizontal adjustability of the foot plate allows you to set your foot in the most comfortable position and with your feet properly set you can take on any competition with all your energy.
A fully rotational wheelie bar is an accessory that will give your wheelchair a fourth wheel to boost performance; the Xtreme is the first wheelchair to have it installed on it.
The Pros and Cons of Colours Xtreme- Pro Tennis
Pros
The Xtreme comes with welded rigid side guards, this is an assurance that your safety and comfort are taken well care of.
The custom camber setting of more than 20 degrees built into the frame ensures that you do not have to waste your physical energy.
It is lightweight and hence portable and a great mate on the court since it does not have the bulk to hold you back on the court.
The Colours Xtreme-Pro Tennis comes in a variety of incredible frame colours to choose from. Add style and fun on the court with eye-catching colours with the Xtreme-Pro Tennis.
Cons
The chair price may seem a little expensive, but in actual sense, it is the best offer for the wheelchair's value.
Conclusion
If you are looking for a sports wheelchair that will enhance your performance by ensuring both your safety and comfort leaving you with nothing to worry about other than focus on the game and giving it your best the results being excellent performance your search should start and stop at Sportaid. They have the best deals in town that makes their products affordable and the customer care services offered by Sportaid friendly staff is unmatched. Place your order for the Colours Xtreme- Pro Tennis from Sportaid and experience all these.
The sketch is attractive, your authored material stylish. cialis malaysia price I require a specialist in this area to resolve my problem.