6 Brilliant Features of the Trionic Veloped Tour Walker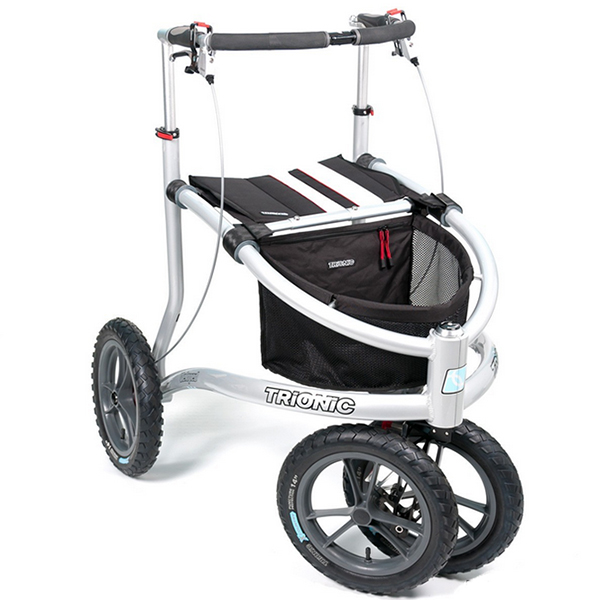 Your daily comfort does not to be compromised because you use a walker. It is perfectly designed for taking a stroll in the park, for going shopping and even for sightseeing. You do not have to worry about where to carry all your groceries when you go to the supermarket, the walker has a large basket to hold all your groceries.
Air Pressure Tires
The rock hard solid tires will comfort you when you are walking on cobblestones and gravel and uneven ground when outdoors. Long time use of the walker will usually leave you with pain in your hands, shoulders and even elbows. To offer you a softer ride and ensure your comfort, the air pressured tires unlike solid tires reduce vibration and give you maximum comfort.
Enjoy an Upright Posture
Many rollator users walk with a crouched back. You will agree with me that this can be very tiring and can cause harm in the long run. The reason why this happens is that the seat of the conventional walkers has been positioned too close to the legs and hence there is less space between the legs and the walker for walking. As a result, the user has to walk too far behind the rollator and the crouched position comes automatically.
Conquer all Obstacles
Having to climb over curbs, rocks and other obstacles is a major problem for you if you use a rollator. Big obstacles will need that you have the walker lifted over them, this is a big challenge. The veloped tour walker you will easily overcome all these obstacles without lifting your walker an inch.
All Terrain Brakes
Whether you are walking in the rain or enjoying the sunshine or even walking in the deep snow with the trionic veloped walker your brake system performance remains reliable. The brakes are protected from dirt, snow and water and continue performing perfectly in all kinds of weather.
Rigid Frame
The frame of this walker has been designed with rigidity and weight in mind. The over sized frame of welded T- 6 Aluminum is light for easy transportation and rigid enough to hold sizeable weights.
Washable Seat Covers
To keep clean, the rollator has a removable durable and washable seat cover. The cover is made of a water-resistant but washable fabric that will enable you to keep the seat clean for a long time.
Conclusion
You can enjoy the outdoors in every kind of weather with this walker. Crafted for the very active users, you should not miss your evening strolls or the shopping expeditions. Visit sportaid.com and order the trionic veloped tour walker and keep walking.