Pride Pursuit PMV 4 Wheel Scooter- All you Need to Know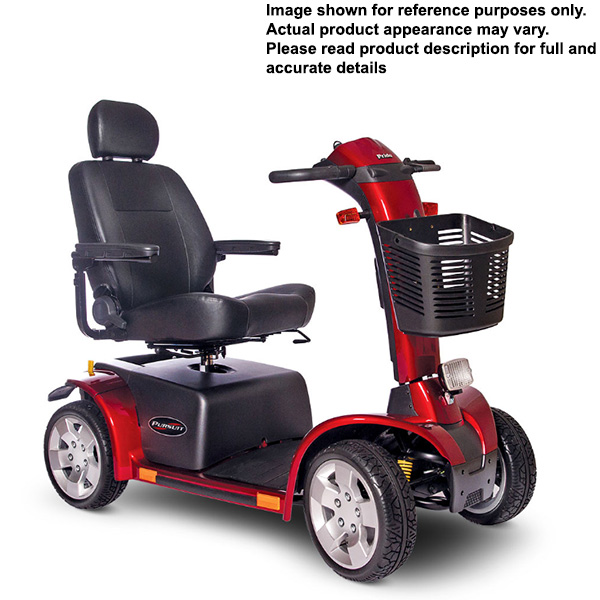 A scooter that has splendid outdoor performance and oozes with luxury is the description of the Pride Pursuit 4 Wheel PMV. It is a powerful scooter that will handle the rugged outdoor terrain and while at it remain stylish. Your outdoor experience will be elevated to another level with the Pride Pursuit which is a great off-roader.
Large Solid Tires
Tires make or break any machine that moves. The Pursuit PMV 4 Wheel has 13" low solid tires makes both outdoor rides and rides on even terrain easy. The outstanding outdoor performance relies on the specially designed tires adapted for rugged rides and that is not all, the tires are the non-marking low profile.
Standard Full Lighting
Lighting is a vital feature of a wheelchair. It helps increase visibility at night and ensures your safety. Apart from the obvious lighting your ways as you ride in dark areas and at night, it will ensure you are visible to other road users. Lights also give your wheelchair a bright unique look. The Pride Pursuit has the standard full lights complete with directional signals.
Front and Rear Suspension
The Pride Pursuit PMV 4 wheel scooter is a great outdoor performer. It transverses rough terrain with ease, bumpy terrains are its favorites. It prides itself on taking the bumpy rides because it has an independent front and rear dynamic suspension that will give you a smooth ride even on the bumpiest terrain.
Sleek Tiller with Wraparound Handles
If you are struggling to operate a wheelchair or scooter because of limited hand dexterity you need the Pride Pursuit. You can operate the scooter with just a thumb or even only one finger and not only that; while at it you will be able to comfortably rest your arms on the tiller sides.
Feather Touch Disassembly
Despite being large in size, you will like the fact that it can be disassembled easily when required. The parts can be detached and assembled without much complication.
Conclusion
The Pride Pursuit is a reliable excellent outdoor performer. It is created for heavy duty use and lives up to the standard. You can find this scooter at sportaid at an affordable price. The great and knowledgeable customer service team will give you detailed information about this amazing scooter. Get your freedom; enjoy the outdoors on another level.