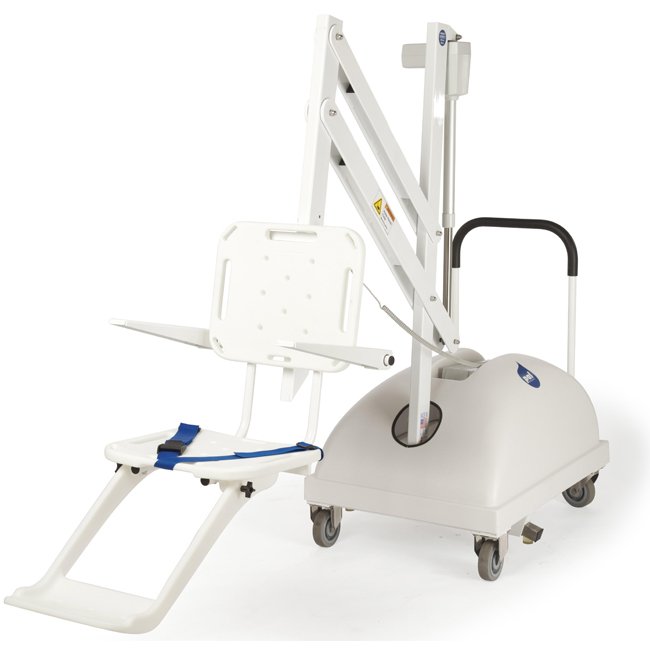 The PAL Portable Hi/Lo Lift can be adjusted for use in an in-ground pool or on a pool that is on a high ground. The seat comes with both high and low settings to suit facilities with both types of pools, you should note however that the lift cannot directly transfer you from an above pool to an in-ground pool. The lift has fantastic features which I will focus on in this post.
Features of the PAL Portable Hi/Lo Lift by S.R Smith
It has a weight capacity of 300 lbs; fairly heavy individuals can use it comfortably.
The lift is absolutely portable as the name suggests and it, no deck fixtures are added therefore can be easily moved by one person.
It can be stored away when not in use.
A 24-volt rechargeable battery powers this awesome lift.
You can operate this lift by a waterproof hand control that is simple to use.
This lift features a 240° rotation. It ensures your safety by giving you a safe transfer area.
The lift is made from strong, durable material. Aluminum and powder coated stainless frame and seat is sturdy and built to last long.
The seat comes with a charger, a battery console cover.
Your safety is guaranteed with the seatbelt assembly that comes with the lift.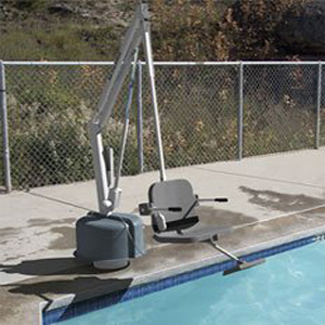 If you are struggling with finding the right pool lift your search stops here at Sportaid, it presents to you the Titan 600 Lift by Aqua Creek which has among the highest weight capacity in the lifts market today. And it does not stop here; the pool lift has other incredible features that I will share with you in this post.
The Features of Titan 600 Lift by Aqua Creek ADA-Compliant
The lift comes with a 22″ extra wide seat, a perfect size that will ensure comfort even for the fairly large individuals.
Dual flip-up arms are ideal for safe transfers, it is easy to get in and get out of the seat without risking falling off.
The lift has removable and adjustable footrests that ensure you sit comfortably and enjoy every moment at the pool.
It also features a water-resistant handset which ensures the handset is not damaged by water with continued use.
This lift has a rechargeable battery that can be easily charged, and that is not all, the wall mount charger further makes it super easy for you to charge it.
The titan ensures that you are secure with the lap belt it has, the belt is adjustable so it can fit all comfortably.
This amazing product is of the best quality. It is constructed from stainless steel which it does not rust or get corroded with time.
The powder coat finish does not only enhance its durability, but it also gives it an elegant look that makes it an eye-catching piece.