Review of the Number One Wheelchair for Active Users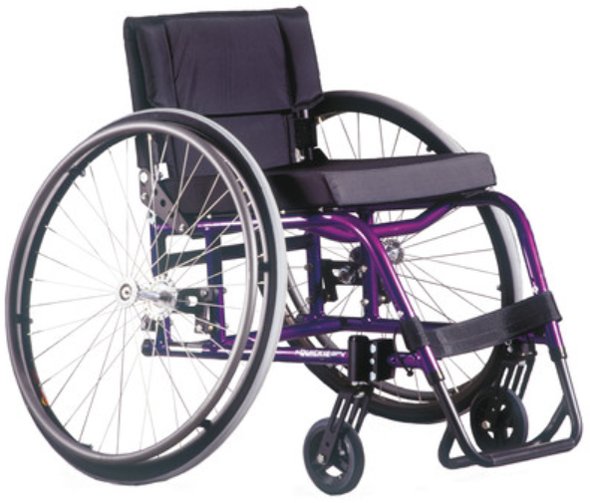 The Quickie GP and GPV is a manual rigid wheelchair. The chair is ideal for active users who need a chair for everyday use as well as sports activities. The one-piece, welded frame offers a solid, rigid ride and a lighter overall chair weight. With a variety of options, the GP series wheelchair can be customized to fit tall, short, long or wide.
The Quickie GP has exceptional maneuverability. Standard with a 70 front frame angle; the GPV front end option tapers inwards in a V-like fashion. These features are designed to hold the legs in a tighter position. Also available are tighter frame angle too!
Features of the Quickie GP and GPV
One piece welded frame offers a solid, rigid ride.
Great for sports activities.
Adjustable axle positions.
Easy to adjust and configure changing needs.
Replacement parts available and easy to rebuild.
The frame is indestructible.
Ideal for sport or everyday use.
Lightweight 19.75 lbs. (with titanium axles, exact weight dependent on options).
Front frame angle provides exceptional maneuverability.
7° of camber Ideal for sport or everyday use.
The Benefits of Quickie GP
It is well built hence very stable.
It's very easy to work, with various parts to make the chair more personal so it works exactly how you hope it will.
Durability. "My last Quickie GPV lasted nearly 20 years" one customer gave that testimony in an online review.
The adjustable center of gravity, lightness and customize-ability.
It has a rigid feeling over the folding chairs. Also the folding backrest option is nice.
Easy to adjust to almost any ones needs a great all around chair.
Smooth wheeling, comfort, durability and easy to carry in the car, (pop the wheels out if necessary, fold).
It is lightweight, has a strong frame and is easy to handle. It feels almost as if it is rolling itself on flat surfaces.
Quality of workmanship has attention to details.
It's a lightweight frame. Sports oriented Quickie  performance wheels are an available option (basketball and tennis).
Multiple axle plate options such as double slot and amputee are available to meet individual needs.
The GPV comes standard with seven degrees of camber for easier propulsion but the camber can be adjusted from 0-12 degrees.
The chair is light enough (without going to the expense of titanium) at 5'2″ and 127 lbs with a poor balance to handle by yourself without the need for a lift all you have to do is just pop off the wheel, fold down the seat and you are good to go. The chair fits in the passenger seat of a compact pickup truck.
The basic folding back may not be as comfortable for everyone owing to different preferences and choice of sitting positions; this can be managed by getting a cushion for support if you find the chair uncomfortable.  The back also seems to have a slight forward angle; it will take you some time to get used to it. The wheelchair has also to be maintained and cleaned properly since it is not self-cleaning. The only remedy for the screws that secure the seat and tend to snap off is to carefully drill out the broken screw or purchase an after-market solid seat pan.  It's still a nice chair.
Sportaid offers the Quickie GP and GPV. The staff at Sportaid are ready to answer any questions you may have and serve you professionally to ensure you make the best choice of a wheelchair in a sea of wheelchairs.  And that's not all: the prices at Sportaid will not leave your pockets drained. Shipping of your order is fast and reliable. Visit Sportaid for the best offers and discounts.