Quantum Bath Chair with Commode Seat – Your Ultimate Bathing Solution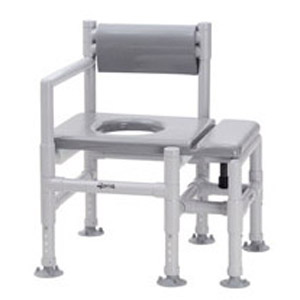 A lot of people living with disability have a tough in the bathroom. However, when you have the quantum Bath Chair with Commode you have every reason to confidently get into the bathroom and take your bath in total comfort. And the good news is that you can take this chair with you wherever you may go. Sportaid offers you this and other amazing products; I will let you know the features of this bath chair in a moment.
Features of the Quantum Bath Chair with Commode Seat
The Quantum Bath Chair has been built for durability. The commode hole style seat is internally rounded and covered in foam to ensure your comfort.
You can either access the bath chairs using the right or left entry, the chair has a reversible left or right side entry.
The assembly of this chair is simple; you do not need tools to put it together.
It has a weight capacity of 350 lbs, an ideal choice for everyone.
The Pros and Cons of the Quantum Bath Chair with Commode Seat
Pros
It is convenient for travel; carry your bathroom comfort everywhere you go.
The internally rounded padding encased in foam is good for pressure relief that ensures your safety and comfort.
It comes with the option of adapter legs which adds stability and grip to the chair.
And that is not all; the adapter legs can be attached and removed without the use of any tools.
The firm back keeps you in an upright position; it is molded with urethane padding like the rest of the seat for further comfort.
Cons
You may need a helping hand to assemble the chair, but then that is not a big problem since all you need is your bare hands to put the pieces together.
Conclusion
Sportaid offers you this incredible bath chair at the best price in town. It is designed with features that make your life easy. Get it from Sportaid and enjoy fantastic discount offers. Their customer service team is friendly and highly responsive, contact them today for any queries regarding their products they will be happy to serve you. Change your bath moments with this wonderful chair available at Sportaid.