Fantastic Features of The Invacare 3-Position Recliner Deluxe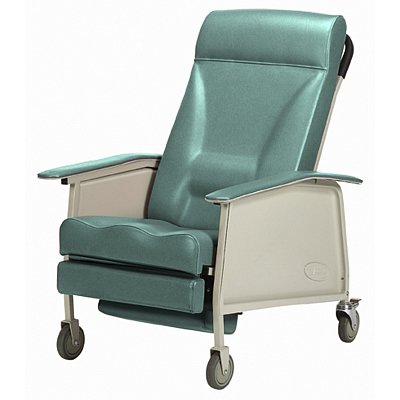 The new adult Invacare 3 position recliner deluxe is built with special features for durability and will offer you exceptional comfort. The recliner can be adjusted to three sitting positions: sitting, elevated leg or full recline hence it offers maximum flexibility for you. Keep reading and you will find out the many features of the Invacare 3 position recliner deluxe that you or your loved ones will enjoy each day should you settle for it.
Special Padding Technology
The choice of the padding ensures your comfort while at the same time offers support for the seating surface. The specially formed back and seat play a vital role in your comfort the type of padding chosen for the two must be carefully done. The Invacare 3 position recliner deluxe is built with these in mind and therefore has special padding.
Lumbar Support
The back of the chair is made to give lumbar support for optimum comfort. Support for your back is essential for good posture. You do not need to worry about discomfort and pain resulting from lack of adequate support for your back during the long hours you have to spend sitting in the wheelchair.
Articulating Head Rest
Your neck and head have been specially catered for by the Invacare 3 position recliner. The headrest supports the neck and head giving you all the comfort you would need even on the longest day you have to spend in the wheelchair.
3 Adjustable Sitting Positions
What else will you look for in a recliner chair if it comes with the ability to be adjusted to three different positions?  The sitting position, the elevated leg position and the full recline position. Your maximum comfort is no doubt fully covered.
Easy Movement
You will agree with me when I say that that easy movement is one of the most important aspects to consider when choosing a mobility chair. The Invacare recliner has a convenient push bar on the chair back and four rolling casters for your easy movement. They are available in two the adult size and the wide size to fit different patient sizes. Also, the rear locking casters make it easy for you to move and position the recliner.
Flame Resistant Upholstery
This chair is fireproof. I am not exaggerating when I say so. The recliner's upholstery is flame resistant and ensures your recliner can pass the test of fire and not burn into ashes. In case of an unfortunate fire accident, you will be sure your chair is not burnt. Besides, the upholstery is fluid resistant; you don't need to worry about liquids soiling your chair.
Blow-molded side Panels for Easy Cleaning
This chair's amazing features do not stop here if you need to clean it, the side panels can be easily removed for cleaning and fixed back after giving the chair the sparkle and freshness that will further enhance your everyday comfort in this one of its kind seats.
Conclusion
This is an ideal choice for you. It gives you the ability to perform a variety of functions safely and effectively. If you need a solution for both long-term and clinical seating applications then visit Sportaid and get this recliner that will give you a whole new experience.