A Review of the Patriot Portable Pro Lift by Aqua Creek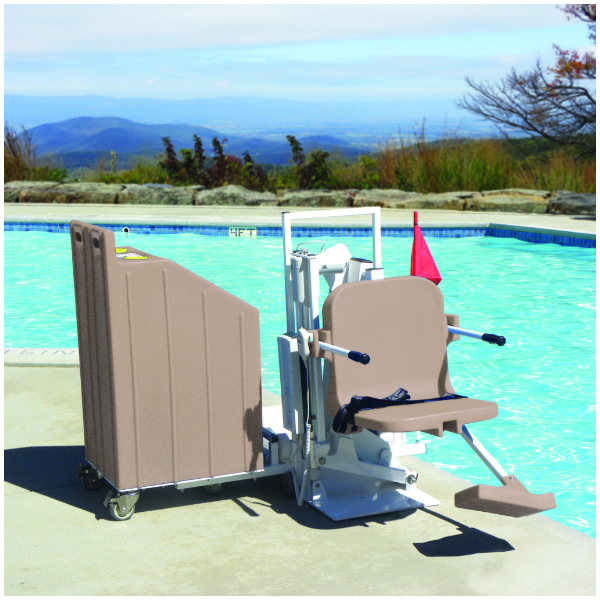 Sportaid presents the weight champion Portable Pro Lift. If you are worried about finding a lift that can take your weight comfortably then your search stops here. It is ADA compliant and hence recommended for commercial use. The patriot is created with many amazing features that make it a perfect choice for anyone looking for a perfect lift. The lift's design has been improved in recent times giving it even more fantastic features.
Features of the Patriot Portable Pro Lift by Aqua Creek
The lift has a weight capacity of 375 lbs (170kgs).
It comes with a rechargeable battery with a wall mount charger; it ensures that your lift is powered every time anywhere.
The flip-up armrests that this lift has helps you to transfer in and out of the chair safely.
Adjustable Lap belts further enhance your safety by ensuring that you are firmly secured in your seat.
The water-resistant handset makes it easy for you to operate this lift.
Removable and adjustable footrest ensures that your comfort comes first you can adjust the footrest or remove it altogether as you may desire.
The lift is made of stainless steel. This material is long lasting, the powder coat finish give it a durable and attractive look.
The Pros and Cons of the Patriot Portable Pro Lift by Aqua Creek
Pros
The new design makes it standard, it can now accommodate most deep draft pools of up to 12″ water drafts.
It is the only portable lift that is verified to meet ADA guidelines.
The 170 kgs weight capacity gives the lift the title of the highest weight capacity portable lift in the market.
It is counter weighed using sand, which can be sourced locally thus saving on freight charges and making it easy to set up.
It is easy to use, has a slow, simple movement that gives you a feeling of security.
Cons
Securing the lift in place may be an uphill task. A fixing kit, however, comes with the lift and gives you guidelines on how to go about it.
Conclusion
Gain the control of this incredible lift in the palm of your hands with the two buttons, submerge remote and open a new world of portable lifts. Sportaid brings you the Portable Pro a champion of weight with fabulous features. Contact them today and get amazing discount offers.