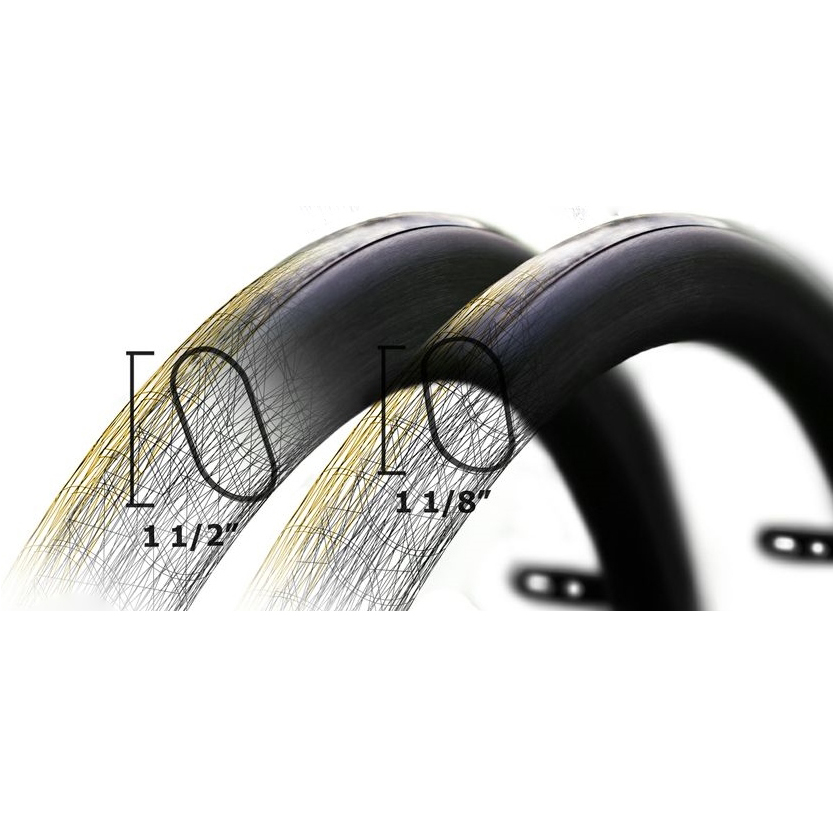 Sportaid presents to you the number one invention in the pushing technology that works amazingly well that you will be left wondering how you have been living without it for all that time. The rim is lined with a rubber band that gives you a great feeling each time you use it and that is not all; it gets better with every use.
Features of the Surge Wheelchair Hand Rim by Out Front
The hand rim is lightweight it is created as a single component.
It has a Gription strip that improves traction on every push.
The oval shape comes in two different sizes to fit the hand.
The side surfaces are smooth and will not burn your hands when you brake.
You have the option of choosing a close-in mount or a wide mount option depending on what you prefer.
The hand rim is flexible enough to fit on all rim sizes from 20″ to 26″.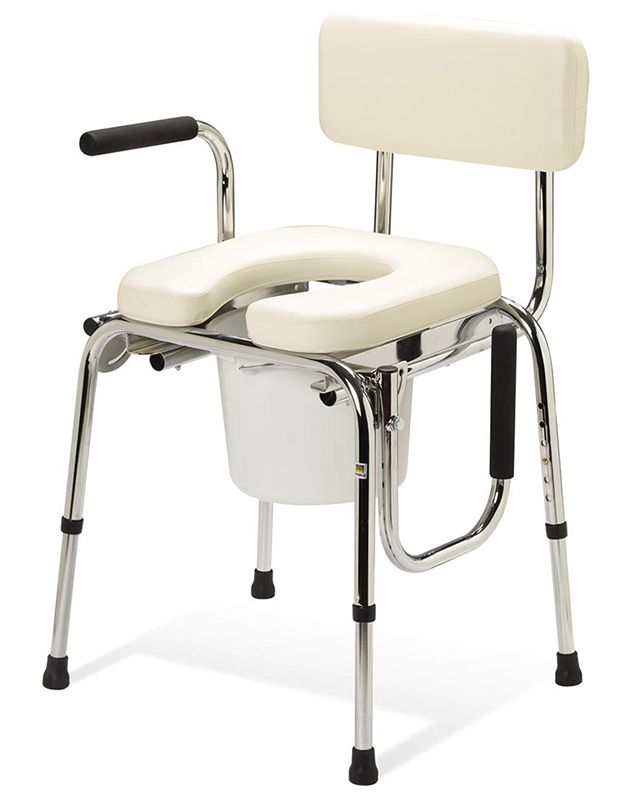 Using the bathtub and the shower can be a challenging task for a wheelchair user. But with the Padded Drop-Arm Commode every bathtub and shower moment is made super easy. It only takes the user a push of a button to drop the arms and facilitate fast and safe movement from left to right and thus making transfers too easy. That is just the tip of the iceberg, the commode has a lot of incredible features I will share them with you next.
Features of the Drop-Arm Commode
The seat is designed not only to ensure your safety, the resilient foam padded back and seat offers you utmost comfort.
The Padded Drop-Arm Commode is created to make lateral transfers easy.
It is fact that the Padded Drop-Arm Commode will certainly get wet whenever you use it, this is why the padded foam hand grips are made not to get slippery even when wet.
The backrest can be used and the seat mounted on the toilet to offer a fantastic over-the-toilet-safety-frame.
The arms drop with the push of a button for unrestricted left-to-right leg movement.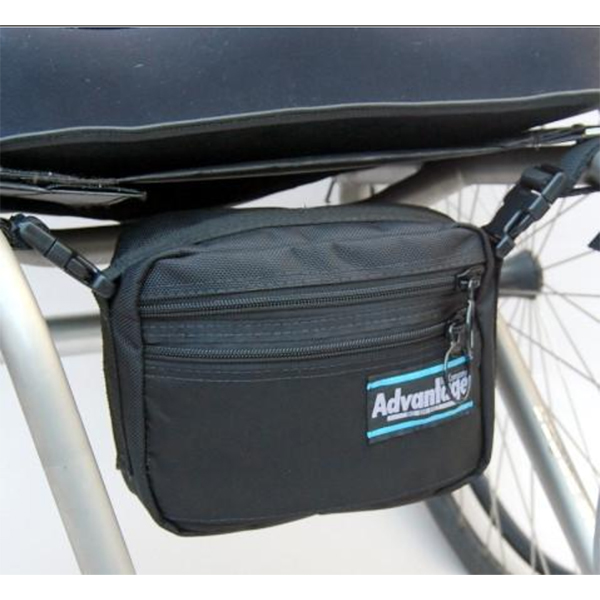 Take your valuables with you everywhere you go with these stylish bags that you can carry comfortably under your wheelchair seat. Let keys, your phone and even important documents you need to have like your identity card or even your money be tucked away safely within your reach in the Advantage Wheelchair Deluxe Down Under Bags. The bag comes with fantastic features that make it an ideal companion as you go about your everyday tasks whether at the workplace, out shopping or even on a day of fun out.
Features of the Advantage Wheelchair Deluxe Down under Bags
The bag has a secure snapping attachment that ensures your valuables do not get lost when they fall out at any time.
It comprises of one large main compartment with a smaller front pocket. Both have strong zippers that secure your valuables on every ride.
The zippers are easy to open, you can easily reach out for your bag and zip it open in a second in fact with one hand (thanks to the nylon straps that it is made of) to find whatever you need anywhere without a struggle.
It has quick release latches on both sides; this makes it easy to disconnect the bag especially when going through Airport security checks.
When you have to use a wheelchair for mobility, it means that you will spend most of the time seated in the chair. Seating for long hours can cause more complications for you; this is the reason why you should consider ensuring that you are well supported in your seat and that you maintain a good posture so that you don't worse the situation. Sportaid thinks about your health the most and always try to provide best products ever. This time Sportaid brings you the Jay X2 Wheelchair Cushion created with amazing features which I will let you know in the following paragraphs.
Features of the Jay X2 Wheelchair Cushion
The Cushion comes with a stretch outer cover that makes it easy for you to keep the cushion clean.
It is lightweight and has a stable foam base with a reduced profile. This provides stability and gives pressure relief to you.
The JAY Flow Fluid Insert enhances its base stability and it is evenly distributed in the cushion to ensure you do not need to keep unzipping and placing pressure on the gel filled inner part to distribute it.
It comes with an innovative dual cover system.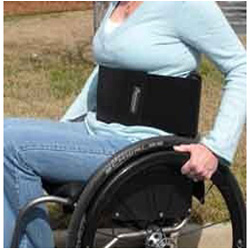 Support your upper body and add strength in every move with the Body Bracer-Abdominal Binder. You will love this awesome Body Bracer for the comfort you will experience using it whether every day or during sports activities. Improve your performance on the pitch with this bracer that will enhance your safety, performance and comfort. Keep reading to find out the wonderful features that the Body Bracer- Abdominal Binder has.
Features of the Body Bracer-Abdominal Binder
The Body Bracer has a soft and secure belt for absolute support of the abdomen.
It is made of neoprene; a perfect choice for the binder as it is stretchy in nature.
One of the experiences I most missed when I had to make the transition from crutches to a wheelchair was hiking. There's nothing quite like being surrounded by the natural landscape, whether it's forest, field or mountainside, far from the noise of cars.
I am a fairly strong person, and I have a good chair, but I quickly found that my equipment was woefully inadequate on any unpaved terrain. I also didn't have thousands of dollars to plunk down for a purpose-built all-terrain wheelchair, so I started to do some research into alternatives.
One of the easiest (and least expensive) ways to get off the paved path is to install all-terrain rear wheels on your wheelchair. The standard 1 inch wheelchair tire sinks easily into grass and dirt and has a hard time gripping uneven surfaces like gravel. In this post I'll talk a little bit about different all-terrain tires as well as offer some advice on casters that can complement rear wheels. Continue reading →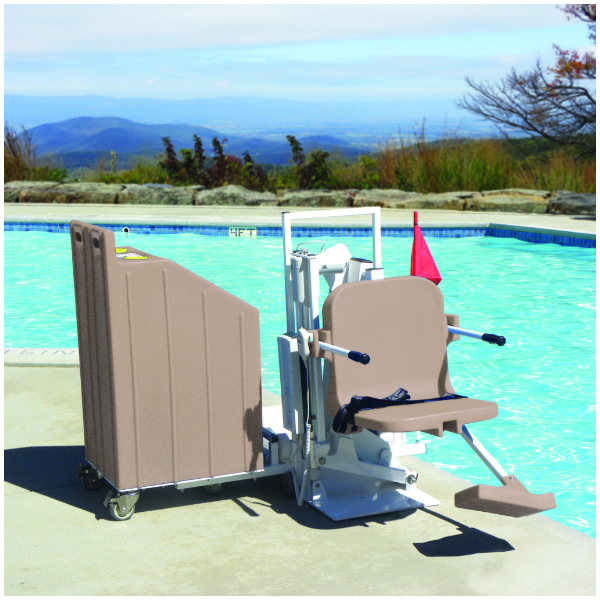 Sportaid presents the weight champion Portable Pro Lift. If you are worried about finding a lift that can take your weight comfortably then your search stops here. It is ADA compliant and hence recommended for commercial use. The patriot is created with many amazing features that make it a perfect choice for anyone looking for a perfect lift. The lift's design has been improved in recent times giving it even more fantastic features.
Features of the Patriot Portable Pro Lift by Aqua Creek
The lift has a weight capacity of 375 lbs (170kgs).
It comes with a rechargeable battery with a wall mount charger; it ensures that your lift is powered every time anywhere.
The flip-up armrests that this lift has helps you to transfer in and out of the chair safely.
Adjustable Lap belts further enhance your safety by ensuring that you are firmly secured in your seat.
The water-resistant handset makes it easy for you to operate this lift.
Removable and adjustable footrest ensures that your comfort comes first you can adjust the footrest or remove it altogether as you may desire.
The lift is made of stainless steel. This material is long lasting, the powder coat finish give it a durable and attractive look.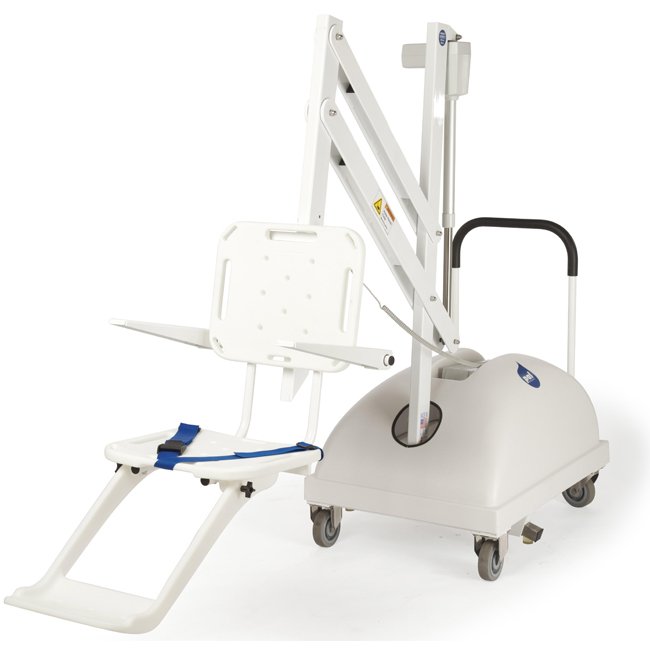 The PAL Portable Hi/Lo Lift can be adjusted for use in an in-ground pool or on a pool that is on a high ground. The seat comes with both high and low settings to suit facilities with both types of pools, you should note however that the lift cannot directly transfer you from an above pool to an in-ground pool. The lift has fantastic features which I will focus on in this post.
Features of the PAL Portable Hi/Lo Lift by S.R Smith
It has a weight capacity of 300 lbs; fairly heavy individuals can use it comfortably.
The lift is absolutely portable as the name suggests and it, no deck fixtures are added therefore can be easily moved by one person.
It can be stored away when not in use.
A 24-volt rechargeable battery powers this awesome lift.
You can operate this lift by a waterproof hand control that is simple to use.
This lift features a 240° rotation. It ensures your safety by giving you a safe transfer area.
The lift is made from strong, durable material. Aluminum and powder coated stainless frame and seat is sturdy and built to last long.
The seat comes with a charger, a battery console cover.
Your safety is guaranteed with the seatbelt assembly that comes with the lift.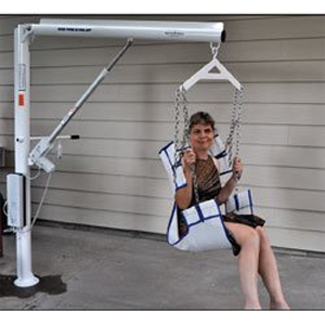 Experience the power of the Super Power EZ Lift by Aqua Creek in every lift at your pool with this incredible lift that has excellent features. The lift is made to give you accessibility to above ground pools and spas at economical prices. The lift offers you the option of sitting on a mesh sling seat or a hard one. It is built to serve you for a longer period of time as it most reliable lift. Before we learn about the pros and cons of this lift, let us focus on the features of the Super Power EZ Lift by Aqua Creek first.
Features of Super Power EZ Lift by Aqua Creek
It has a weight capacity of 181 kg (400 lbs); most individuals can comfortably sit in this powerful lift.
The adjustable stainless steel chains enable you to adjust them to the length that is most comfortable for you.
You can either choose to use the mesh sling seats or opt for a hard one that is as effective as this.
Besides, the lift has a water-resistant handset it cannot get affected by water.
And to ensure that you get the best out of the lift, the rechargeable battery with wall mount charger ensures that your lift is powered to lift you for all the fun you may need.
The stainless steel construction is ideal for use at the pool; it won't rust or get corroded by water.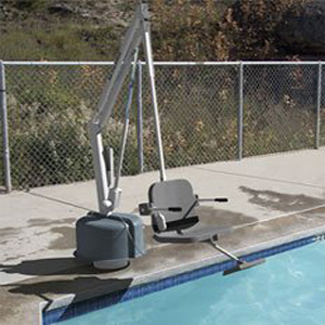 If you are struggling with finding the right pool lift your search stops here at Sportaid, it presents to you the Titan 600 Lift by Aqua Creek which has among the highest weight capacity in the lifts market today. And it does not stop here; the pool lift has other incredible features that I will share with you in this post.
The Features of Titan 600 Lift by Aqua Creek ADA-Compliant
The lift comes with a 22″ extra wide seat, a perfect size that will ensure comfort even for the fairly large individuals.
Dual flip-up arms are ideal for safe transfers, it is easy to get in and get out of the seat without risking falling off.
The lift has removable and adjustable footrests that ensure you sit comfortably and enjoy every moment at the pool.
It also features a water-resistant handset which ensures the handset is not damaged by water with continued use.
This lift has a rechargeable battery that can be easily charged, and that is not all, the wall mount charger further makes it super easy for you to charge it.
The titan ensures that you are secure with the lap belt it has, the belt is adjustable so it can fit all comfortably.
This amazing product is of the best quality. It is constructed from stainless steel which it does not rust or get corroded with time.
The powder coat finish does not only enhance its durability, but it also gives it an elegant look that makes it an eye-catching piece.