A Review on the Invacare Tracer IV Cushion Wheelchair Product
Published
January 18, 2018
|
By
douger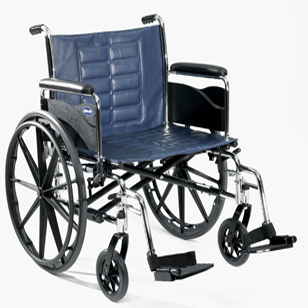 The Invacare Tracer IV Wheelchair is a heavy duty wheelchair. The reinforced frame is built for strength and durability. If you count yourself active then this is your ideal wheelchair.
The Tracer offers high level roll ability and a streamlined look that gives it a stylish look. Its arms are adjustable, they are detachable.
The Invacare Tracer IV Custom Features
Reinforced heavy duty frame for sturdiness and durability
Upholstery include heavy duty liners keeps user from stretching
Dual Sealed bearings for maximum roll ability
Urethane rear tires mounted on no flex wheels gives optimum performance
Dual axle positioning enables you to adjust seat-to-floor heights
The Pros and Cons of the Invacare Tracer IV Custom
Pros
Sturdy good looks
Front tires heavier and larger, transverse thresholds and minor obstacles
Ability to handle weight while rolling comfortably
Seat length and width
Heavy Duty
Comfortable arm pads and adjustable arms
Move with ease
Strong metal frame
Treaded tires
Anti tippers
Cons
Being a heavy duty wheelchair, it is heavy
May not fit in narrow doorways
The advantages of the Invacare Tracer IV wheelchair are more than the disadvantages. The inability to fit in narrow doorways is not a weakness in the product itself, but it should be mentioned that you will need 36 inch doorways if you buy the 24 inch seat. A bit heavy to lift folded to put in truck, but it that's what provides a nice ride to the person sitting in it.